Film
The Front Line © 2011 Showbox/Mediaplex. Korea had a bad 20th century.
The Front Line: Why do Koreans love bleak war movies?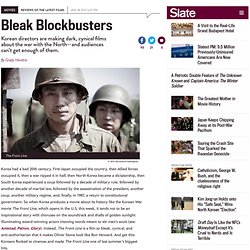 Movies for a desert island
You don't need much of a setup for this one: It's a Desert Island List of visual media that I'd like to have with me if I were shipwrecked. Here are the rules: 1.
Guillermo del Toro's Top 10 - Explore
Sheer terror and sheer poetry, but both stem from distinctive medieval traditions. Häxan is the filmic equivalent of a hellish engraving by Bruegel or a painting by Bosch. It's a strangely titillating record of sin and perversity that is as full of dread as it is of desire and atheistic conviction, and a condemnation of superstition that is morbidly in love with its subject. Vampyr is, strictly speaking, a memento mori, a stern reminder of death as the threshold of spiritual liberation. Like any memento mori, the film enthrones the right morbid imagery (skull, scythe, white limbo) in order to maximize the impact of the beautiful, almost intangible images that conclude it. If only Criterion had acquired my commentary track—sigh—from the UK edition.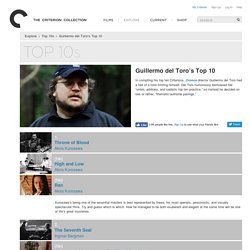 Not sure if I said it already in the previous list, but my choice for #1 is John Carpenter's version of "The Thing." I'd be satisfied if it's in the top 5. Also, I think "Invasion of the Body Snatchers" is a top 10 worthy film. You guys forgot to name the movie's scariest moment, though truly the movie is more about the slow burn of ever increasing sense of paranoia, despair and fear.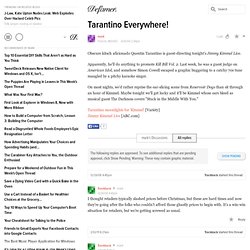 s 50 Scariest Movies Of All Time, 40-31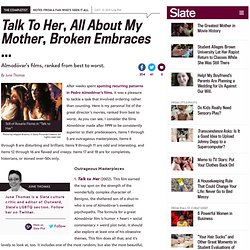 Almodóvar's films, ranked from best to worst
Still of Rosario Flores in "Talk to Her" Photo by Miguel Bracho, © Sony Pictures Classics. All rights reserved.
Pan's Labyrinth (2006)
Spain, 1944. The Civil War has ended. Hidden throughout the Spanish mountains lie men who continue to resist the Fascist regime. Military posts have been established to exterminate the Resistance. Some time long before, in a realm where lies and pain do not exist, the daughter of a King dreams of a human world, and into such a world she then escapes.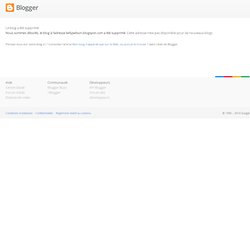 9/11 movies: Four brilliant 9/11 films that get overlooked. - By Bill Wyman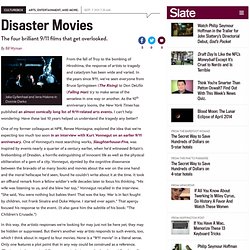 Jake Gyllenhaal and Jena Malone in Donnie Darko From the fall of Troy to the bombing of Hiroshima, the response of artists to tragedy and cataclysm has been wide and varied. In the years since 9/11, we've seen everyone from Bruce Springsteen ( The Rising ) to Don DeLillo ( Falling Man ) try to make sense of the senseless in one way or another. As the 10 th anniversary looms, the New York Times has published an almost comically long list of 9/11-related arts events. I can't help wondering: Have these last 10 years helped us understand the tragedy any better? One of my former colleagues at NPR, Renee Montagne, explored the idea that we're expecting too much too soon in an interview with Kurt Vonnegut on an earlier 9/11 anniversary .
Is it possible we've never done a proper Christmas horror movie list on these pages before? I could have sworn we had. Let's fix that toot sweet. In completely random order here are some bloody yuletide flicks to cram in your stocking! The first film is a required classic so goofy it's hard to believe anyone ever took such offense to it.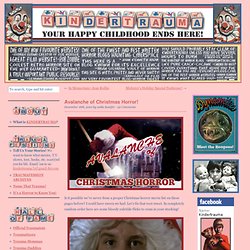 Avalanche of Christmas Horror!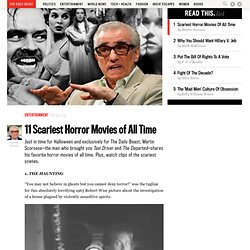 11 Scariest Horror Movies of All Time
"You may not believe in ghosts but you cannot deny terror!" was the tagline for this absolutely terrifying 1963 Robert Wise picture about the investigation of a house plagued by violently assaultive spirits. There's a moment in this Val Lewton picture, about plague victims trapped on an island during the Greek civil war, that never fails to scare me. let's just say that it involves premature burial. Another, more benign haunted house picture, set in England, no less atmospheric than The Haunting —the tone is very delicate, and the sense of fear is woven into the setting, the gentility of the characters. Barbara Hershey plays a woman who is brutally raped and ravished by an invisible force in this truly terrifying picture.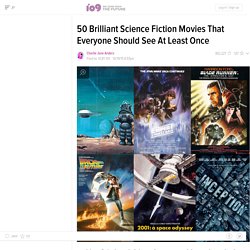 I'm like that too. When it comes to "hard" sci-fi" and "Dystopian" fiction, I draw a line. I wouldn't count Mad Max 2 as sci-fi either. Sci-fi for me has to contain some element of science that's both fantastic and yet plausible to the point of suspension of disbelief. I didn't see that in MM2:TRR.
25 classic science fiction movies that everybody must watch
Best Movies of the 2000′s
[Note: Every Friday on First Thoughts we host heated, half-serious, half-cocked arguments about some aspect of pop culture. Today's theme is the best movies of the past ten years. Have a suggestion for a topic? Send them to me at jcarter@firstthings.com ] The most remarkable thing you'll discover in making a list of the best movies of this decade is how many unremarkable movies have been made in the past ten years.
Inception_Infographic_by_dehahs.jpg (JPEG Image, 1000x1500 pixels) - Scaled (36