Video
Die Antwoord - Zef Side (Official) The World's Biggest Drum Machine.
Hewitt
CrunchUp 07/10/09 12:03PM, CrunchUp 07/10/09 12:03PM techcrunch. Getting started - some content from YouTube. I have added a Wiki page here which points to some YouTube videos that show a common set of content tasks including: creating a PCD foldercreating a system objectcreating a URL iView and a transaction iViewcreating a portal role and assigning it to a user I hope that portal beginners can use these to help get started with using the portal and maybe post fewer newbie type questions in the portal forums.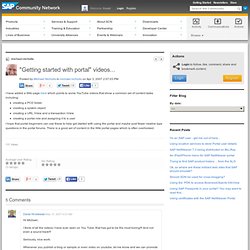 There is a good set of content in the Wiki portal pages which is often overlooked.
---