Startup
Net Inc. Hires Mark Ruddock as CEO. New executive will guide next stage of growth for leading open-source social software startup.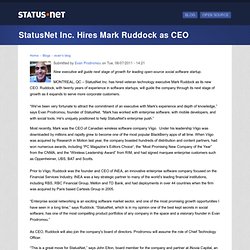 MONTREAL, QC – StatusNet Inc. has hired veteran technology executive Mark Ruddock as its new CEO. Ruddock, with twenty years of experience in software startups, will guide the company through its next stage of growth as it expands to serve more corporate customers. "We've been very fortunate to attract the commitment of an executive with Mark's experience and depth of knowledge," says Evan Prodromou, founder of StatusNet. "Mark has worked with enterprise software, with mobile developers, and with social tools.
cURL - How To Use. cURL Docs Man Page curl - transfer a URL curl [options] [URL...] curl is a tool to transfer data from or to a server, using one of the supported protocols (DICT, FILE, FTP, FTPS, GOPHER, HTTP, HTTPS, IMAP, IMAPS, LDAP, LDAPS, POP3, POP3S, RTMP, RTSP, SCP, SFTP, SMTP, SMTPS, TELNET and TFTP).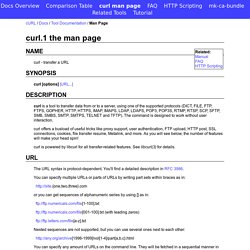 ---