Converter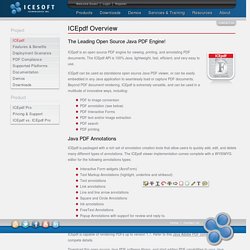 ICEpdf is an open source PDF engine for viewing, printing, and annotating PDF documents. The ICEpdf API is 100% Java, lightweight, fast, efficient, and very easy to use. ICEpdf can be used as standalone open source Java PDF viewer, or can be easily embedded in any Java application to seamlessly load or capture PDF documents.
Java Programming PDF Java PDF Library J2EE PDF Java PDF Viewer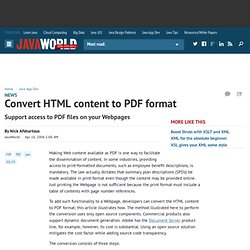 Convert HTML content to PDF format - Java World
Making Web content available as PDF is one way to facilitate the dissemination of content. In some industries, providing access to print-formatted documents, such as employee benefit descriptions, is mandatory. The law actually dictates that summary plan descriptions (SPDs) be made available in print format even though the content may be provided online. Just printing the Webpage is not sufficient because the print format must include a table of contents with page number references.