Books
Stadtbücherei Weimar
JustBooks
Willkommen bei Wikibooks Wikibooks ist eine Bibliothek mit Lehr-, Sach- und Fachbüchern. Jeder kann und darf diese Bücher frei nutzen und bearbeiten.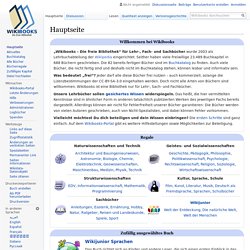 BookCrossing
List of apocalyptic and post-apocalyptic fiction - Wikipedia, th
This is a list of apocalyptic and post-apocalyptic fiction works as portrayed in literature, film, television, and, comics. [ 1 ] [ 2 ] Apocalyptic fiction is a sub-genre of science fiction that is concerned with the end of civilization due to a potentially existential catastrophe such as nuclear warfare , pandemic , extraterrestrial attack , impact event , cybernetic revolt , technological singularity , dysgenics , supernatural phenomena , divine judgment , climate change , resource depletion or some other general disaster . Post-apocalyptic fiction is set in a world or civilization after such a disaster. The time frame may be immediately after the catastrophe, focusing on the travails or psychology of survivors, or considerably later, often including the theme that the existence of pre-catastrophe civilization has been forgotten (or mythologized).