Veilleseotools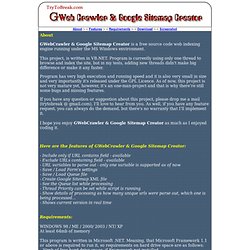 GWebCrawler & Google Sitemap Creator is a free source code web indexing engine running under the MS Windows environment. This project, is written in VB.NET. Program is currently using only one thread to browse and index the site, but in my tests, adding new threads didn't make big difference or make it any faster. Program has very high execution and running speed and it is also very small in size and very importantly it's released under the GPL Licence.
GWebCrawler & Google Sitemap Creator
Link popularity: SEO Link Tools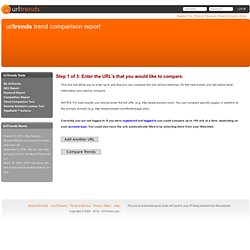 Trend Comparison Report
This tool will allow you to enter up to urls that you can compare the urls varous rankings. On the next screen you will select what information you want to compare. NOTES: For best results, you should enter the full URL (e.g. http://www.domain.com).
Trends: Dec 14, 2011
Download Web CEO
SpyFu exposes the search marketing secret formula of your most successful competitors. Search for any domain and see every place they've shown up on Google: every keyword they've bought on Adwords, every organic rank, and every ad variation in the last 6 years. Learn how to connect with these domains, too.