Sciencesy
25 Simple Yet Awesome Gadgets and Accessories
How to Develop a Photographic Memory
11 cheap gifts guaranteed to impress science geeks
Stop-motion Magic! & Illusion & The Most Amazing Creations in Art, Photography, Design, and Video.
11 cheap gifts guaranteed to impress science geeks | DVICE
Science comes up with a lot of awesome stuff, and you don't need a Ph.D, a secret lab, or government funding to get your hands on some of the coolest discoveries. We've got a list of 11 mostly affordable gifts that are guaranteed to blow your mind, whether or not you're a science geek. Click on any image to see it enlarged. 1. Aerogel Also known as frozen smoke, Aerogel is the world's lowest density solid, clocking in at 96% air.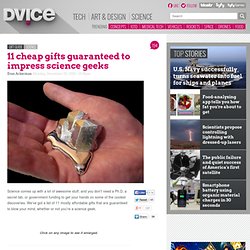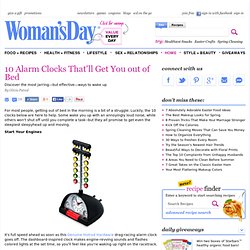 Best Alarm Clocks - 10 Funny Alarm Clocks and Reviews - Womans Day
For most people, getting out of bed in the morning is a bit of a struggle. Luckily, the 10 clocks below are here to help. Some wake you up with an annoyingly loud noise, while others won't shut off until you complete a task--but they all promise to get even the sleepiest sleepyhead up and moving.
Suspending Water Without a Cup Trick - CollegeHumor Video
Amazing Trick - Video - StumbleUpon
How to turn "water" into marbles - StumbleUpon
How To Build A Fireball You Can Hold&Video - StumbleUpon
10 bets you can always win...with trickery - Guyism