Quotes
The Cynic's Sanctuary
10 Sentences that Can Change Your Life
By:Ladan Lashkari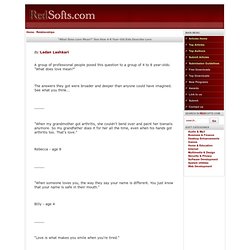 "What Does Love Mean?" See How 4-8 Year-Old Kids Describe Love Article
1. "I urge you to please notice when you are happy, and exclaim or murmur or think at some point, 'If this isn't nice, I don't know what is.'"The actual advice here is technically a quote from Kurt Vonnegut's "good uncle" Alex, but Vonnegut was nice enough to pass it on at speeches and in A Man Without A Country. Though he was sometimes derided as too gloomy and cynical, Vonnegut's most resonant messages have always been hopeful in the face of almost-certain doom. And his best advice seems almost ridiculously simple: Give your own happiness a bit of brainspace. 2.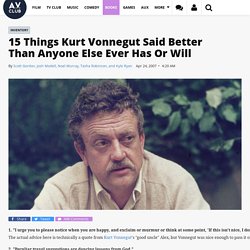 15 Things Kurt Vonnegut Said Better Than Anyone Else Ever Has Or Will
Bookworm or not, you can't help but enjoy these black and white illustrations of literary quotes by Evan Robertson. The New York-based graphic designer has taken some of the cleverest lines written by famous authors such as William Faulkner and Oscar Wilde and turned them into wonderful posters.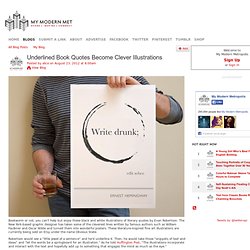 Underlined Book Quotes Become Clever Illustrations
- StumbleUpon
Funny Philosophy Quotes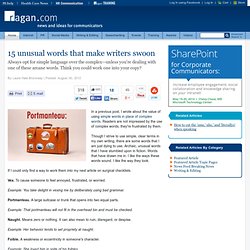 15 unusual words that make writers swoon
In a previous post, I wrote about the value of using simple words in place of complex words. Readers are not impressed by the use of complex words; they're frustrated by them.
Ink - Quotes about writing by writers presented by The Fontayne Group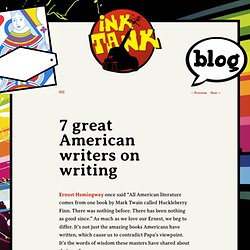 Ernest Hemingway once said "All American literature comes from one book by Mark Twain called Huckleberry Finn. There was nothing before.
Seven great writing quotes from seven great American writers
Oscar Wilde's most enduring epigrams - infographic
- StumbleUpon
- StumbleUpon
Find quotes about anything and everything
Inspirational quotes | #433 & From up North | Design inspiration & news
VERY INTERESTING UNKNOWN FACTS
25 Beautifully Illustrated Thought-Provoking Questions
Quotes About Life-21 | Quotes About Life
Rules of Life, Life Quotes, Tumblr Quotes, Relatable Quotes, Inspirational Quotes
The smart thing to do
Thursday Humor
Love Quotes | Little BGCG - StumbleUpon
Sometimes All You Need Is A Little Inspiration to Keep Rolling - StumbleUpon
Collected Quotes from Albert Einstein - StumbleUpon
[Note: This list of Einstein quotes was being forwarded around the Internet in e-mail, so I decided to put it on my web page.