Relations_internationales
La FMES a participé à une réunion du trinôme académique organisée à Ajaccio le 17 mars 2014 à l'occasion de l'escale de l'aviso Commandant Ducuing. Le trinôme réunit depuis 1982 l'éducation nationale, le ministère de la défense et l'IHEDN pour favoriser le lien Armées-Nation et permettre aux enseignants d'avoir une formation sur les problématiques de défense dans son acception la plus large. Organisée sur le site de la base navale d'Aspretto par M. Jean-Dominique COGGIA, délégué académique défense en Corse, le capitaine de vaisseau Bertrand MOPIN, commandant de la marine en Corse et Maître Jean-Paul MATTEI, en charge de l'AR20 IHEDN, cette réunion qui rassemblait une cinquantaine de participants avait pour objet de présenter la marine nationale et son implication dans l'organisation française de l'action de l'Etat en mer (AEM).
Accueil - FMES - Fondation Méditerranéenne d'Études Stratégiques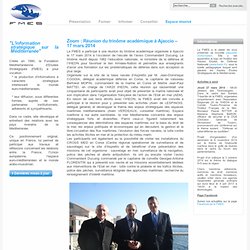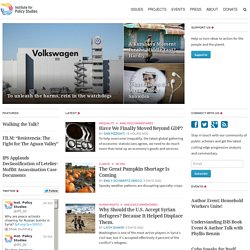 Fixing the estate tax could be the single most important intervention in reducing wealth dynasties in the U.S. "The notion that things are getting better just because Israel and Palestine are talking," says Phyllis Bennis, "simply isn't the case." Phyllis Bennis discusses Afghanistan's presidential election and how it is being shaped by corruption and the U.S.' military presence on The Real News. Phyllis Bennis discusses the possibility of a renewed Cold War, longstanding tragedies in the Middle East, and the decline of Israeli influence. President Obama supports raising the tipped minimum wage and emphasizes that this move would help women, who make up the majority of tipped workers. Our Latest
Agentura.Ru - Спецслужбы, разведка, теракты, шпионы и терроризм.