Relations_internationales
Accueil - FMES - Fondation Méditerranéenne d'Études Stratégiques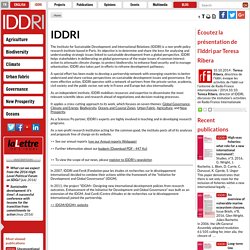 The Institute for Sustainable Development and International Relations (IDDRI) is a non-profit policy research institute based in Paris. Its objective is to determine and share the keys for analyzing and understanding strategic issues linked to sustainable development from a global perspective. IDDRI helps stakeholders in deliberating on global governance of the major issues of common interest: action to attenuate climate change, to protect biodiversity, to enhance food security and to manage urbanisation. IDDRI also takes part in efforts to reframe development pathways. A special effort has been made to develop a partnership network with emerging countries to better understand and share various perspectives on sustainable development issues and governance. For more effective action, IDDRI operates with a network of partners from the private sector, academia, civil society and the public sector, not only in France and Europe but also internationally.
L'Iddri
GRIP - Groupe de Recherche et d'Information sur la Paix et la Sécurité
Agentura.Ru - Спецслужбы, разведка, теракты, шпионы и терроризм.