Relations_internationales
La FMES a participé à une réunion du trinôme académique organisée à Ajaccio le 17 mars 2014 à l'occasion de l'escale de l'aviso Commandant Ducuing. Le trinôme réunit depuis 1982 l'éducation nationale, le ministère de la défense et l'IHEDN pour favoriser le lien Armées-Nation et permettre aux enseignants d'avoir une formation sur les problématiques de défense dans son acception la plus large. Organisée sur le site de la base navale d'Aspretto par M. Jean-Dominique COGGIA, délégué académique défense en Corse, le capitaine de vaisseau Bertrand MOPIN, commandant de la marine en Corse et Maître Jean-Paul MATTEI, en charge de l'AR20 IHEDN, cette réunion qui rassemblait une cinquantaine de participants avait pour objet de présenter la marine nationale et son implication dans l'organisation française de l'action de l'Etat en mer (AEM).
Accueil - FMES - Fondation Méditerranéenne d'Études Stratégiques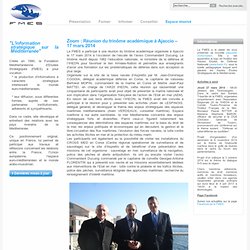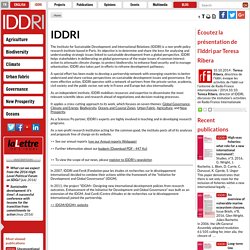 The Institute for Sustainable Development and International Relations (IDDRI) is a non-profit policy research institute based in Paris. Its objective is to determine and share the keys for analyzing and understanding strategic issues linked to sustainable development from a global perspective. IDDRI helps stakeholders in deliberating on global governance of the major issues of common interest: action to attenuate climate change, to protect biodiversity, to enhance food security and to manage urbanisation. IDDRI also takes part in efforts to reframe development pathways. A special effort has been made to develop a partnership network with emerging countries to better understand and share various perspectives on sustainable development issues and governance. For more effective action, IDDRI operates with a network of partners from the private sector, academia, civil society and the public sector, not only in France and Europe but also internationally.
L'Iddri
GRIP - Groupe de Recherche et d'Information sur la Paix et la Sécurité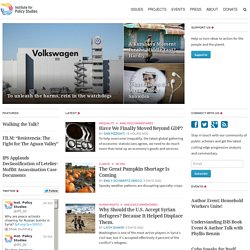 As we end the longest period of war in our history, we should be entering a period of postwar downsizing - but what about the communities dependent on the massive post-9/11 military budget? Indian diplomat Devyani Khobragade was clearly mistreated by U.S. officers, but what about the abuse that migrant domestic workers live through every day? CCTV interviews Sanho Tree, drug policy expert, on Uruguay's "historic and counterintuitive" decision to be the first country in the world to legalize the production and sale of marijuana. Phyllis Bennis traces her development from an active Zionist youth to a leading U.S. critic of Israel and international anti-war activist on The Real News. Emira Woods speaks on the significance of Nelson Mandela's passing on CCTV America: "The spirit of Mandela lives on, a spirit that continues to fight for justice." Our Latest
Agentura.Ru - Спецслужбы, разведка, теракты, шпионы и терроризм.