Développement
Homepage - BLDS - British Library for Development Studies
Association loi 1901, créée en 1979, par des professionnels exerçant au profit des pays en développement dans les domaines de la planification urbaine et de la gestion des villes, l'association Villes en Développement rassemble des Urbanistes, des Ingénieurs, des Architectes, des Economistes, des Géographes et des Sociologues, indépendants ou appartenant à des services publics ou des bureaux d'études, menant une carrière entièrement ou alternativement internationale.
Bienvenue sur le site de l'AdP – Villes en Développement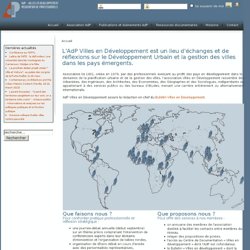 WEDC is one of the world's leading education and research institutes for developing knowledge and capacity in water and sanitation for low- and middle-income countries. We are based in the School of Civil and Building Engineering at Loughborough University, one of the top award-winning Universities in the UK. Find out more
Welcome to WEDC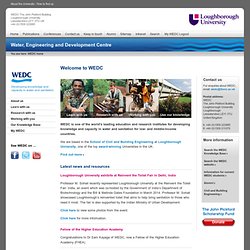 STATE OF THE WORLD - Our Urban Future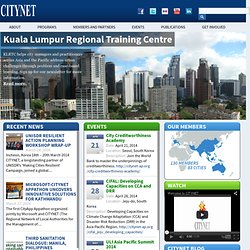 Secondment Staff What is the Secondment Staff Program? The Secondment Staff Program was established in 1995 during the Network's eighth Executive Committee…
CITYNET : Together we can do more.
IHS: Home
INTERNATIONAL DEVELOPMENT RESEARCH CENTRE | CENTRE DE RECHERCHES POUR LE DÉVELOPPEMENT INTERNATIONAL
Contact Us | Media | Subscribe | SiteMap | Quick Links ˅
Cities Alliance
Реформа ЖКХ
CTBUH 2010 World Conference INDIA
Free India Tour Travel Guide, Travel India, Indian Tourism? Please advice me free tour and travel guide of india Completely free Travel Website http://overindia.com OverIndia | Read more What can I add to this guide to India Travel Tips? Hi I want to ad some more useful information to this page http://hubpages.com/hub/India-Travel--Information--Tips--Advice Does anyone have links or advice for first time visitors to India?
WACAP 2010 Rotterdam
©Euromedina.org Tous droits réservés ~ Plan du site ~ Mentions légales ~ Contact Le site Internet du Réseau urbain Europe-MENA Le réseau urbain Europe-MENA, créé en Mars 2004, à l'initiative de la ville de Marseille et de la Banque Mondiale, propose une démarche collective de réflexion et d'action pour répondre aux difficultés de la gestion urbaine. Ce partenariat s'articule autour de : ~ la promotion des échanges de connaissances, d'expériences et de pratiques réussies, ~ le renforcement des institutions de formation des élus et cadres territoriaux, ~ la mise à disposition d'expertises pour aider les villes partenaires à identifier, évaluer ou mettre en oeuvre des projets de développement urbain, ~ la facilitation des contacts pouvant déboucher sur le portage conjoint de projets de développement, en particulier sous forme de coopération décentralisée. Espace de travail communautaire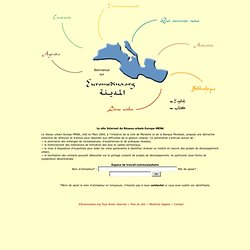 Bienvenue sur Euromedina.org
Jaglin, Eau potable dans les PED
ECDPM Linking policy and practice
http://www.euforic.org/
L'Institut de recherche pour le développement (IRD) est un organisme français de recherche, original et unique dans le paysage européen de la recherche pour le développement. Privilégiant l'interdisciplinarité, l'IRD centre ses recherches, depuis plus de 65 ans, sur les relations entre l'homme et son environnement en Afrique, Méditerranée, Amérique latine, Asie et dans l'Outre-Mer tropical français. Ses activités de recherche, de formation et d'innovation ont pour objectif de contribuer au développement social, économique et culturel des pays du Sud.