Flash sources
Flash Kit, A Flash Developer Resource for Macromedia Flash 8 and MX Tutorials SWF FLA images clipart Sounds WAVS Animations Help and Support. Sandy - Adobe Flash: Formations & Forums. Clic droit et menu sur animations flash. Onedayitwillmake. LIVRE EN FLASH... livre, book, page, feuille, tourner, Source N 26779 Flash. Bonjour, je pense que beaucoup de personnes cherche ce type d'animation, l'effet des pages d'un livre qui tournes et je n'ai vu qu'une seul source de ce type sur le site, ou alors j'ai mal cherché, C'est pourquoi je me permet de publier celle-ci, je pense que tom avait commencé à developper un truc du genre sur son site, si je ne me trompe pas.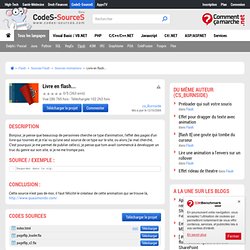 Source / Exemple : Regarder dans le zip. Conclusion : Cette source n'est pas de moi, il faut félicité le créateur de cette animation qui se trouve là, Création dynamique de boutons en ActionScript 3. Créer dynamiquement un bouton en ActionScript 3 (AS3).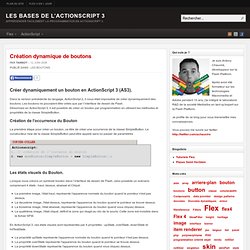 Dans la version précédente du langage, ActionScript 2, il nous était impossible de créer dynamiquement des boutons. Les boutons ne pouvaient être créés que par l'interface de dessin de Flash. Désormais en ActionScript 3, il est possible de créer un bouton par programmation en utilisant les méthodes et propriétés de la classe SimpleButton. Création de l'occurrence du Bouton. Traer AS3, the mandatory cloth simulation. I believe every single particle engine starts with that as an example: the classic cloth-like simulation.
The original Traer.physics package has it. So here it is, adapted from the original source code. But since just lines and dots don't really make the thing look like anything, I added some GraphicsTrianglePath goodness in there. The mesh is only made of a 8×8 particles grid, or 128 triangles when rendered, which really isn't much! The source code for this is part of my Traer.physics port to ActionScript3 , and is available at Github.
---