Exploitation RAMEAU WebSémantique
BnF-RAMEAU : Accueil. Produits et services bibliographiques. Soutenez la BnF Bibliothèque nationale de France Pour les professionnels Récupération et utilisation des données de la BnF.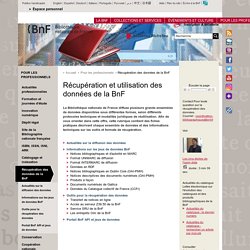 Rameau en SKOS (traduction) This site describes an experimental service that provides the RAMEAU subject headings as open linked data.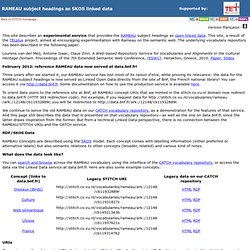 This site, a result of the TELplus project, aimed at encouraging experimentation with Rameau on the semantic web. The underlying vocabulary repository has been described in the following paper: Homepage of the STITCH project. You can find a short depiction of the goals of STITCH in this poster!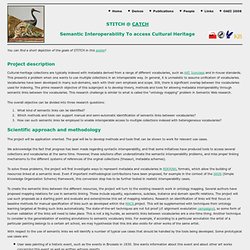 Project description Cultural-heritage collections are typically indexed with metadata derived from a range of different vocabularies, such as AAT, Iconclass and in-house standards. This presents a problem when one wants to use multiple collections in an interoperable way. In general, it is unrealistic to assume unification of vocabularies. Vocabularies have been developed in many sub-domains, each with their own emphasis and scope. SKOS Simple Knowledge Organization System - home page. SKOS is an area of work developing specifications and standards to support the use of knowledge organization systems (KOS) such as thesauri, classification schemes, subject heading lists and taxonomies within the framework of the Semantic Web ...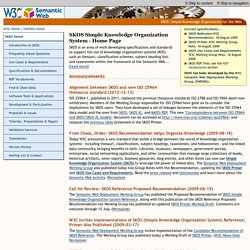 [read more] Alignment between SKOS and new ISO 25964 thesaurus standard (2012-12-13) Rameau. Vingt-cinq ans après sa naissance, Rameau est devenu le langage d'indexation le plus largement utilisé par les bibliothèques françaises : cet anniversaire peut être l'occasion de tenter un bilan et de risquer quelques perspectives, étant entendu que l'accent sera mis ici sur le langage proprement dit, les autres aspects de la question (techniques, institutionnels) n'étant abordés qu'incidemment.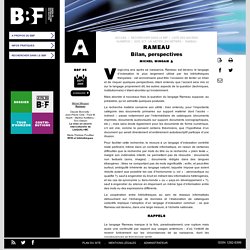 Mais aborder à nouveaux frais la question du langage Rameau suppose, au préalable, qu'on admette quelques postulats.
---