Synchronicity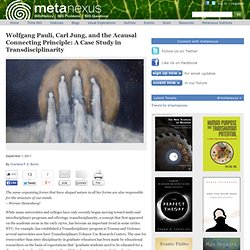 The same organizing forces that have shaped nature in all her forms are also responsible for the structure of our minds. —Werner Heisenberg 1 While many universities and colleges have only recently begun moving toward multi-and interdisciplinary programs and offerings, transdisciplinarity, a concept that first appeared on the academic scene in the early 1970s, has become an important trend in some circles.
Wolfgang Pauli, Carl Jung, and the Acausal Connecting Principle: A Case Study in Transdisciplinarity :: Charlene P. E. Burns :: Global Spiral
Jim Fournier Spring 1997 PAR 667 David Ulansey Introduction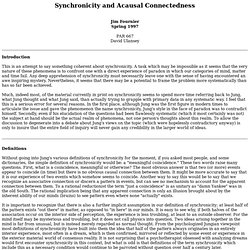 Synchronicity and Acausal Connectedness - Jim Fournier
Carl Jung - Synchronicity
What is Synchronicity?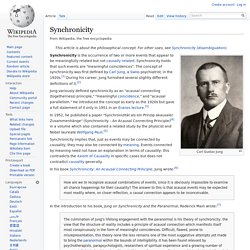 Synchronicity is the experience of two or more events that are apparently causally unrelated or unlikely to occur together by chance, yet are experienced as occurring together in a meaningful manner.