Theme development
Navigation Menus. Navigation Menus Languages: English • 日本語 • Slovenčina • 中文(简体) • (Add your language) Navigation Menu is a theme feature introduced with Version 3.0.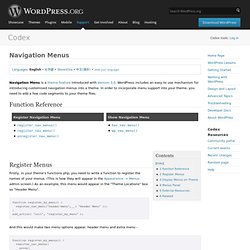 WordPress includes an easy to use mechanism for introducing customised navigation menus into a theme. In order to incorporate menu support into your theme, you need to add a few code segments to your theme files. Function Reference. Wordpress-Cheat-Sheet.pdf (application/pdf-object) The anatomy of a WordPress theme. WordPress Theme Development Tools. Update: We've created a second edition of this article, with updated code samples and coverage of the latest theme development techniques.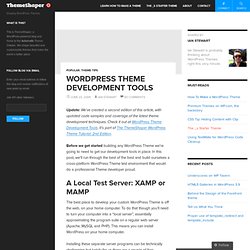 Check it out at WordPress Theme Development Tools. It's part of The ThemeShaper WordPress Theme Tutorial: 2nd Edition. Before we get started building any WordPress Theme we're going to need to get our development tools in place. In this post, we'll run through the best of the best and build ourselves a cross-platform WordPress Theme test environment that would do a professional Theme developer proud. A Local Test Server: XAMP or MAMP. Theme Development Checklist.
---