Corporate leaders
Get flash to fully experience Pearltrees
Native American History and Culture
The Nazi Hydra In America Cover Page
Obama signs bill to close gap in cocaine penalties - Politics - White House
WASHINGTON — President Barack Obama on Tuesday signed a bill reducing the disparity between federal mandatory sentences for convictions for crack cocaine and the powder form of the drug.
Number of millionaires in Israel grows by 42% - Israel Business, Ynetnews
Israel home to 8,419 millionaires according to Merrill Lynch Capgemini World Wealth Report Yair Hasson The number of millionaires in Israel increased last year by 42.7%, from 5,900 in 2008 to 8,419 in 2009, according to the 14th Merrill Lynch Capgemini World Wealth Report released Tuesday. According to the report, the number of millionaires in the world rose in 2009 by 17.1%, to some 10 million, despite the economic downturn. Israel takes third place in the increase of millionaires after Hong Kong and India, where the number of millionaires grew by 104% and 50.9% respectively. The report defines a millionaire as anyone with at least $1 million in liquid funds, not including invested capital, and after all debts are deducted.
Jews in Animated TV
Laughing at and with Jews on The Simpsons, South Park, and Family Guy. Since the advent of The Simpsons in 1989, the animated prime-time genre, which primarily targets adults instead of children, has been one of the most creative zones in contemporary television. Shows such as The Simpsons , South Park , and Family Guy have delivered some of the most consistent laughs on TV, creatively skewering American life and culture from an infinite range of perspectives. We Also Recommend Centered around a single family or a set of friends, these three series have steadily spiraled outward to encompass a miniature universe of walk-on characters, among which a number of Jews are present.
Founder, Lucasfilm Ltd. The creator of the Star Wars Saga and Indiana Jones series, George Lucas is also the critically acclaimed director of American Graffiti and THX 1138 , as well as the producer of a myriad of independent films. In 1971, Lucas formed his own film company, Lucasfilm Ltd., in San Rafael, Calif. In 1973, he co-wrote and directed Graffiti , which won the Golden Globe and garnered five Academy Award® nominations.
Inside Lucasfilm | George Lucas
Steven Allan Spielberg (born December 18, 1946) [ 5 ] is an American film director, screenwriter, producer, and studio entrepreneur. In a career of more than four decades, Spielberg's films have covered many themes and genres. Spielberg's early science-fiction and adventure films were seen as archetypes of modern Hollywood blockbuster filmmaking. In later years, his films began addressing humanistic issues such as the Holocaust , the Transatlantic slave trade , war , and terrorism . He is considered one of the most popular and influential filmmakers in the history of cinema. [ 6 ] He is also one of the co-founders of DreamWorks movie studio.
Steven Spielberg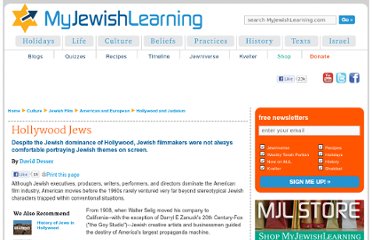 Hollywood Jews
Despite the Jewish dominance of Hollywood, Jewish filmmakers were not always comfortable portraying Jewish themes on screen. Although Jewish executives, producers, writers, performers, and directors dominate the American film industry, American movies before the 1960s rarely ventured very far beyond stereotypical Jew­ish characters trapped within conventional situations. We Also Recommend From 1908, when Walter Selig moved his company to California--with the ex­ception of Darryl E Zanuck's 20th Century-Fox ("the Goy Studio")--Jewish creative artists and businessmen guided the destiny of America's largest propaganda machine. Their pictures influenced not only the millions at home, but also countless more abroad whose only view of America was cranked out by the studios of such ill-educated but streetwise immigrants as Louis Mayer, Carl Laemmle, Marcus Loew, Adolph Zukor, Harry Cohn, Jesse Lasky, the Warner brothers, and Samuel Goldwyn.
Heisenberg and the Nazi Atomic Bomb Project, 1939-1945 : Paul Lawrence Rose
No one better represents the plight and the conduct of German intellectuals under Hitler than Werner Heisenberg, whose task it was to build an atomic bomb for Nazi Germany. The controversy surrounding Heisenberg still rages, because of the nature of his work and the regime for which it was undertaken. What precisely did Heisenberg know about the physics of the atomic bomb? How deep was his loyalty to the German government during the Third Reich?
Jews in Comic Books
How American Jews created the comic book industry. Jews built the comic book industry from the ground up, and the influence of Jewish writers, artists, and editors continues to be felt to this day. We Also Recommend But how did Jews come to have such a disproportionate influence on an industry most famous for lantern-jawed demigods clad in colorful tights? First Comic Books
Gotham Center - Garment Industry History Initiative
The garment industry, like Wall Street and the media business, has been central to the growth and development of New York City's economy and identity. At one time, nearly a third of the adult workforce toiled in the garment trade, making it the city's largest business. From roots on the Lower East Side, manufacturers spread north and then west, eventually concentrating in "New York City's Garment District," which extends from 34th Street to 40th Street and from Sixth to Ninth Avenue. Yet for many decades, when historians delved into the history of the garment industry, most focused their scholarship on the garment workers or on the fashion elements of the trade. The manufacturers, who played a critical role in American entrepreneurial and business history, have been largely ignored.
Richard Watson Gilder
Edith Wharton got to know Richard Watson Gilder, the editor of Century Magazine and a prime mover in the late-nineteenth-century world of arts and letters, when writing on Italian villas and gardens for the magazine in 1902-1903. They also exchanged visits in western Massachusetts, where he lived at Four Brooks Farm in Tyringham. As with all her editors, she continually wrote to him to make sure that she was being treated well--well paid, well advertised, and well edited. Gilder was the editor and friend of many American writers, artists, intellectuals, and leaders, including Mark Twain, Grover Cleveland, and Augustus Saint-Gaudens. After Gilder complained that the Italian gardens articles were too serious, Wharton replied: "As to changing the character of the articles, that seems to me almost impossible.
U.S. Gov't Freezes Iranian Assets of Two New York Companies - Defense/Middle East - Israel News
Women's shoe wholesaler explains why Hebron house is perfect fit By Ben Harris · December 16, 2008 Photos
STEVE LOHR / New York Times 10oct2005 As concerns grow that genetic information could become a modern tool of discrimination, I.B.M. plans to announce a new work force privacy policy today. I.B.M., the world's largest technology company by revenue, is promising not to use genetic information in hiring or in determining eligibility for its health care or benefits plans. Genetics policy specialists and privacy rights groups say that the I.B.M. pledge to its more than 300,000 employees worldwide appears to be the first such move by a major corporation. The new policy, which comes as Congress is considering legislation on genetic privacy, is a response to the growing trend in medical research to focus on a person's genetic propensity for disease in hopes of tailoring treatments to specific medical needs. Gene tests are not yet widespread, but start-up companies are already intent on developing a market for genetic testing and counseling.
IBM to Put Genetic Data of Workers Off Limits STEVE LOHR / New York Times 10oct2005
The unveiling of the charges Thursday came even as Mr. Rangel's lawyers suggested they were trying to reach a settlement to avoid such a fate for Mr. Rangel, 80, a Harlem Democrat.
Rangel Appears Nearly Certain to Face Trial on Ethics Charges
Citigroup Pays $75 Million to Settle Subprime Claims
The settlement centers on events in the fall of 2007, when Citigroup's reported losses started to cascade, eventually prompting the federal government to rescue the bank a year later. The case is the first to focus on whether banks adequately disclosed to their shareholders the increasingly precarious state of their finances during the crisis. It is also the first time the has brought charges against high-ranking bank executives over their involvement with subprime mortgage bonds. The commission singled out two Citigroup executives — Gary L. Crittenden, the former chief financial officer, and Arthur Tildesley Jr., the former head of investor relations — for omitting material information in disclosures to shareholders, according to the complaint .
The brothers, who founded Sterling Software, a business software and services company that they sold for $4 billion in stock to the software company CA in 2000, were also charged with insider trading violations from which they profited by more than $31 million, the S.E.C. said The civil charges, coming just two weeks after the S.E.C. reached a $550 million settlement with , are part of a concerted effort by the commission to focus more sharply on prominent enforcement cases. The agency came under fierce attack after the financial crisis of 2007-8 for failing to uncover fraudulent activity in the mortgage securities markets and for missing chances to halt the operated by .
S.E.C. Charges Billionaire Dallas Brothers With Securities Fraud