Watercolors
Posted by admin in Featured Articles on June 6th, 2011 | no responses Everyone know that Disney have some od Best Movies. This is why Guys from The Uniblog has been working on a set of Disney Princesses with modified, more historically accurate apparel. The results are interesting and beautiful! Some of these have been around a bit, but some of these are new!I hope you'll enjoy in this set…
Historically Accurate Disney Princesses Look | WhatsUp Movies - Best Movies,...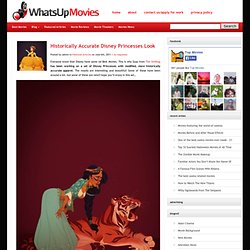 Colton Kegley - Illustration
Daniel Egne?us Watercolor Illustrations | Trendland: Fashion Blog &...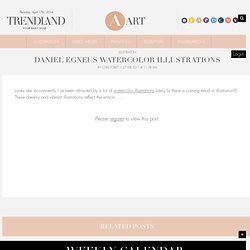 Looks like incontinently I've been attracted by a lot of watercolor illustrations lately (is there a coming trend in illustration?). These dreamy and vibrant illustrations reflect the enticing inner world of highly regarded artist, Daniel Egne?us . Born in 1972 in Sweden, Daniel has spent 20 years in Prague, London, Berlin, Bologna and Rome, and has now made Milan his base. With no formal education he has had successful collaborations with clients such as Haagen-Dasz (worldwide campaign 2008), BMW (Awarded Best Art Directed campaign in Germany 2008), Pepsi Cola Espagna (limited edition cans and bottle-design 2008), Playboy, O2 UK, Marie Claire, Time Magazine and Philip Morris amongst others.
Marion Bolognesi Watercolor Faces | Trendland: Fashion Blog & Trend Magazine
Prices for original work ranges from $200 to $1000. Please email me for more details. Limited edition prints are also available here . "Encounter" - ink and watercolor on paper - 20" x 16" - SOLD "Hydra" - sharpie on bristol- 24" x 17" - not for sale "Aqua Teen Triptych" - ink, watercolor and pastel on paper - each panel is 3" x 12" - SOLD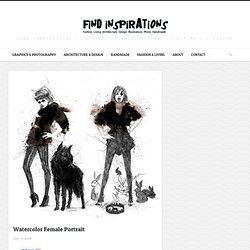 Silvia Pavarini , Italy website: silviapavarini.blogspot.com Monsieur Qui , Paris website: monsieurqui.com Stella im Hultberg , USA website: art scrap blog Yoco Nagamiya , Japan website: yoco-nagamiya.jp Miwa Kaburaki , Japan website: miwakaburaki.com