Services
"Based on the region's airport statistics, air trade originating in or destined to Africa is estimated at 1,789,000 tonnes in 2011. ...International air trade flows tend to concentrate in a few leading economies among the 57 countries of Africa. The leading international markets include South Africa, Kenya, Egypt, Nigeria, and Ethiopia, which hold 19.3%, 16.4%, 15.7%, 9.2%, and 7.3% shares of Africa's international air cargo flows, respectively. All of these leading air cargo markets expanded in 2011, with the exception of Egypt, which contracted 8% due to the civil and economic disruption during the Arab Spring."

http://www.boeing.com/commercial/cargo/wacf.pdf May 6
Dubai, 9 days ago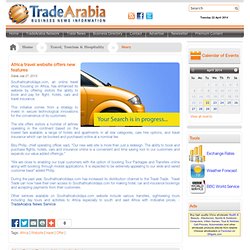 Africa travel website offers new features
mobile-money-launched-data-in-Africa1.png (PNG Image, 468 × 754 pixels)
Dawn Rowlands, Aegis Media Sub-Saharan Africa talks about their growth in Africa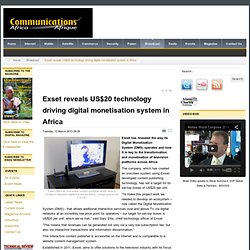 Exset reveals US$20 technology driving digital monetisation system in Africa
Exset has revealed the way its Digital Monetisation System (DMS) operates and how it is key to the transformation and monetisation of television platforms across Africa
download.pdf
Facebook : L'Egypte numéro un en Afrique
Plus qu'un distributeur, Thema est LE partenaire des développements internationaux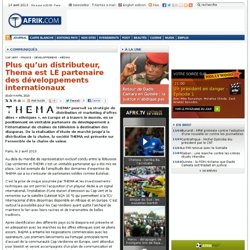 THEMA* poursuit sa stratégie de distribution et marketing d'offres dites « ethniques », en Europe et à travers le monde, en se positionnant en véritable partenaire du développement à l'international de chaines de télévision à destination des diasporas. De la réalisation d'étude de marché jusqu'à la distribution de la chaîne, la société THEMA est présente sur l'ensemble de la chaîne de valeur.
Marché audio-visuel en Afrique: tendances 2012 et projets d' Africafilms.tv en 2013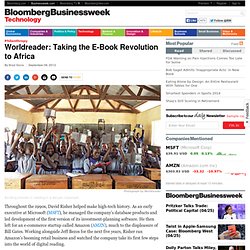 Worldreader: Taking the E-Book Revolution to Africa
Throughout the 1990s, David Risher helped make high-tech history. As an early executive at Microsoft ( MSFT ) , he managed the company's database products and led development of the first version of its investment-planning software.
Africa's apps: farming to gaming | World news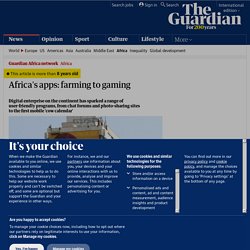 Smart phones, seen advertised on a building in Lagos, Nigeria, are providing opportunities for social and business activities across Africa. Photograph: George Esiri/Reuters
L'Afrique s'impose comme le héraut du paiement mobile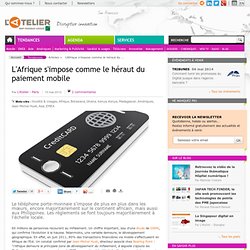 Le téléphone porte-monnaie s'impose de plus en plus dans les mœurs, encore majoritairement sur le continent africain, mais aussi aux Philippines. Les règlements se font toujours majoritairement à l'échelle locale.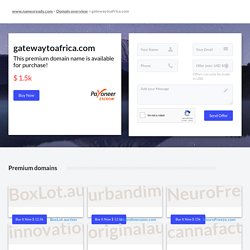 Photo: Derek Keats
Africa Advancing Digitally - Gateway to Africa
Africa is already well known for leapfrogging the rest of the world in use of mobile money, but African countries now have another big leapfrogging opportunity: big data analytics.
Africa May Leapfrog The World In Big Data – ReadWrite
The African continent has enjoyed its best growth decade on record and today is one of the world's fastest growing regions, with 6 of the 10 fastest growing economies in the world.
Pastel to help businesses with African expansion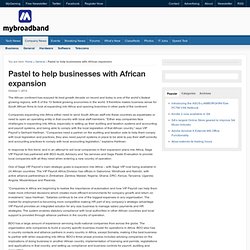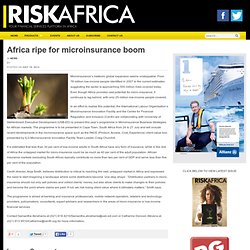 Microinsurance's meteoric global expansion seems unstoppable. From 78 million low-income people identified in 2007 to the current estimates suggesting the sector is approaching 500 million lives covered today. Even though Africa provides vast potential for micro-insurance, it continues to lag behind, with only 25 million low-income people covered.
Africa ripe for microinsurance boom - RISKAFRICA
Africa does not represent a typical insurance market, which means that insurance companies hoping to succeed in the continent will have to create products tailored to the local markets.
Africa needs purpose built insurance products
MMI Holdings Limited (MMI) recently concluded the buyout of FNB Namibia's stake in its Namibian operations for R350 million.
MMI sets its sights on Africa - RISKAFRICA
African software solutions for African business issues
Africa is no different to the rest of the world in terms of its software requirements. Where African companies differ from their US or European counterparts is in terms of the available infrastructure and bandwidth that they can access, as well as their unique operating conditions.
SAP Africa's realtime plan to attract the SME
In the words of its leaders, global business solution provider SAP has, for many years, been known as 'the ERP company' – one that is more often engaged at the high end enterprise space.
FINAL proof Eye On Africa Vol 4.pdf (application/pdf Object)
footprint in Africa.pdf (application/pdf Object)
Marketers, Agencies Eye Booming Africa for Expansion | Agency News
Mobile Music Streaming for Africa - iNamibia
The 10 Most Powerful African Media Moguls
Advertising in Africa
Insights Africa: Statistics and media habits of consumers in Sub-Saharan Africa