TWOODS SCANDAL
Did Nike Really Gain From Tiger Woods' Scandal, as the Numbers Suggest? Last Updated Dec 14, 2010 8:38 PM EST From a financial point of view, Nike (NKE) was right to stick by Tiger Woods despite the scandal that enveloped him in 2009, but the fascinating new study that makes this case also suggests that when brands encounter controversy they ought to destroy the village in order to save it, so to speak.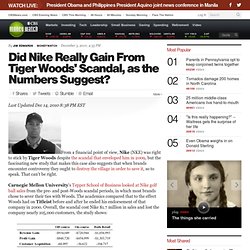 That can't be right. Trading card company Upper Deck says it stands by Tiger. By Michael McCarthy, USA TODAY Trading card company Upper Deck said it "Stands by Tiger Woods" in a statement released Tuesday.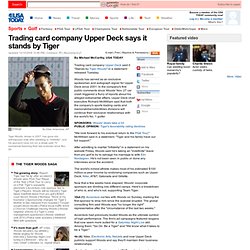 Woods has served as an exclusive spokesman and autograph signer for Upper Deck since 2001. AT&T ends Tiger Woods sponsorship. Tiger Woods tees off in 2007 during the AT&T Earl Woods Memorial Pro-Am golf tournament at Congressional Country Club in Bethesda, Maryland.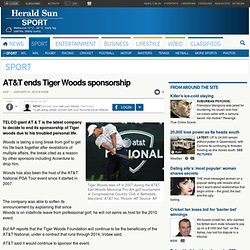 AT&T Inc. Picture: AP Source: AP TELCO giant AT & T is the latest company to decide to end its sponsorship of Tiger woods due to his troubled personal life. Accenture drops Tiger Woods: 'No longer the right rep' EA Sports Keeping Tiger Woods As Face Of Franchise. Tiger Woods, Tag Heuer Split: Golfer Loses Luxury Watch Maker As Corporate Sponsor. If Tiger Woods' struggles at Bridgestone weren't enough for him to worry about, he may need to find time to make another Japanese heat rub commercial.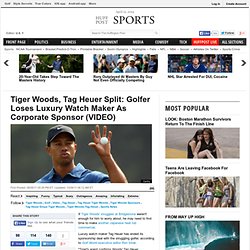 Luxury watch maker Tag Heuer has ended its sponsorship deal with the struggling golfer, according to Golf World executive editor Ron Sirak. "Tiger's agent confirms Woods' Tag Heuer relationship has expired," Sirak tweeted Friday evening. Buick hasn't been missing Tiger Woods - Burns on Business. Gillette benches Tiger Woods - Local News Updates.
AP Photo/Gillette, Phelan M.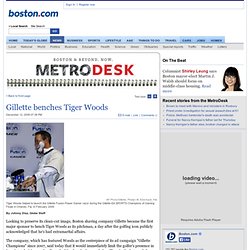 Ebenhack, File Tiger Woods helped to launch the Gillette Fusion Power Gamer razor during the Gillette-EA SPORTS Champions of Gaming Finals in Orlando, Fla. In February 2009. By Johnny Diaz, Globe Staff. Gatorade Drops Tiger Woods Drink. Tiger Woods' auto accident at his Florida mansion in the wee hours of the morning after Thanksgiving touched off touched off a media frenzy around the superstar golfer's carefully guarded private life, with numerous women coming forward claiming to have had a sexual relationship with him.
Before that, the married father of two young children had a pristine image and raked in hundreds of millions of dollars in endorsements. And, while most of Woods' sponsors continue to stand by him, a major one is pulling the plug on a Woods-related product. Tiger Woods' Cheating Scandal: How Will It Affect His Endorsements?
Tiger Woods has never shanked a drive this badly in his life.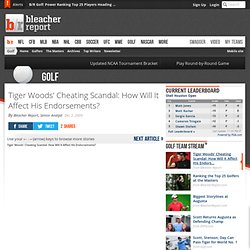 First, Tiger was challenged by the outlandish accusations of the National Enquirer, then came the suspicious single-car accident early on Friday morning, and now reports in US Weekly of another affair have put Tiger in some of the deepest rough he has ever stumbled upon. The last encounter proved to be the tipping point for Woods, who released another statement this afternoon. In light of his most recent comments, in which he apologized to his family for any wrongdoings, one must begin to wonder if the lucrative sponsorship deals that made him the world's first athlete to amass $1 billion will be affected by the drama of this situation.
---