Ohioela
The Ohio Department of Education Office of Curriculum and Assessment English/Language Arts team would like to welcome you to our Pearl Tree. We hope this serves as a valuable resource for educators on all levels and in all fields across the state of Ohio.
World's Largest Professional Network | LinkedIn. Text Complexity. Achieve/Equip. America Achieves. Professional Development. The Teaching Channel. Interventions.
Integrating Techology. You Tube. Social Media. Personal Learning Networking. Educational Organizations.
PearlTrees 101. Ohio's New Learning Standards. Resources. PARCC Sample Items. ODE Pearltrees. Blended Learning. PARCC English Language Arts. Table of Contents General Information Ohio is among 22 states that are working as a consortium, called the Partnership for Assessment of Readiness for College and Careers (PARCC), to develop a common set of K-12 assessments in English and math.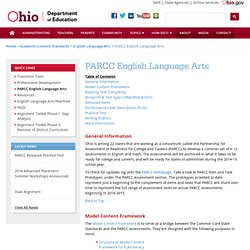 The assessments will be anchored in what it takes to be ready for college and careers, and will be ready for states to administer during the 2014-15 school year. To check for updates log onto the PARCC Homepage.
---