Health
Police: Online Gaming Addict Neglected Her 6 Children - News Story - WPXI Pittsburgh. UNIONTOWN, Pa. — Six children were removed from their Uniontown home after investigators found them living in filth and animal waste.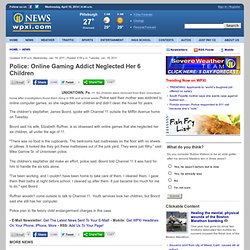 Police said their mother was addicted to online computer games, so she neglected her children and didn't clean the house for years. One-Year-Old Boy Drowns in Bathtub As Mother Plays Games on Facebook. Salmonella Warning Over Fresh Greens - Local News :: Local News. 17-yo Girl Must Process Brain Fluid Inside Her Belly to Survive. Holiday Train rolls into town Tuesday. Teens rough up disabled boy, steal iPhone. A disabled Pickering boy had to have dental surgery after being violently robbed by two teens for his iPhone.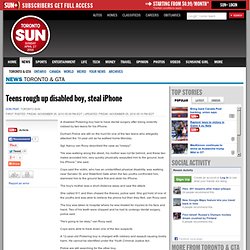 Durham Police are still on the hunt for one of the two teens who allegedly attacked the 10-year-old as he walked home Monday. Sgt. Nancy van Rooy described the case as "creepy". "He was walking along the street, his mother was not far behind, and these two males accosted him, very quickly physically assaulted him to the ground, took his iPhone," she said. Cops said the victim, who has an unidentified physical disability, was walking near Senator St. and Waterford Gate when the two youths confronted him, slammed him to the ground face first and stole his iPhone. My son is gay « Nerdy Apple Bottom. In junior high school and elementary school, one of the worst things somebody can tell you is that you're a nerd.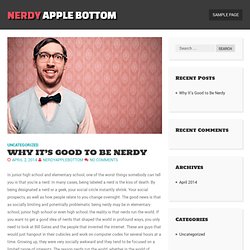 In many cases, being labeled a nerd is the kiss of death. By being designated a nerd or a geek, your social circle instantly shrink. Your social prospects, as well as how people relate to you change overnight. The good news is that as socially limiting and potentially problematic being nerdy may be in elementary school, junior high school or even high school, the reality is that nerds run the world. If you want to get a good idea of nerds that shaped the world in profound ways, you only need to look at Bill Gates and the people that invented the internet. Students to take 22-minute CPR course. TORONTO - Some GTA high school students will be given innovative training this month to help a person who stops breathing during a medical emergency.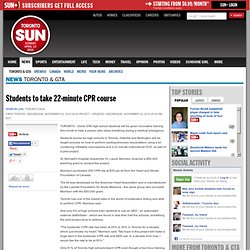 Students across six high schools in Toronto, Oakville and Burlington will be taught acourse on how to perform cardiopulmonary resuscitation using a kit containing inflatable mannequins and a 22-minute instructional DVD, as part of a pilot project. St. Michael's Hospital researcher Dr. San Francisco Bans Happy Meals. Councillor, two women save would-be suicide. City Councillor Mark Grimes and two Etobicoke women saved a woman about to leap off the Islington Ave. bridge and into traffic on the Gardiner Expressway during Friday night rush hour.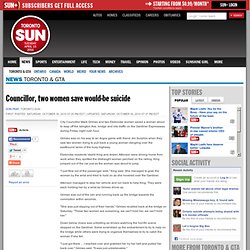 Grimes was on his way to an Argos game with friend Jim Surphlis when they saw two women trying to pull back a young woman dangling over the eastbound lanes of the busy highway. Etobicoke residents Vashti King and Arwen Atkinson were driving home from work when they spotted the distraught woman perched on the railing. King jumped out of the car just as the woman was about to jump. 12-yo Girl Prevents Kidnapping By Pretending iPod Touch Is a Phone. Toronto Humane Society warns pets vulnerable at Halloween. TORONTO - Ghosts, goblins, ghouls and gore - regardless of being fake - could lead to growls from pets at Halloween, the Toronto Humane Society warned Tuesday.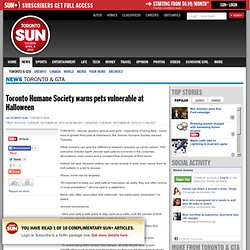 While humans can spot the difference between dressed-up candy-callers, THS executive director Garth Jerome said pets do not revel in the costumes, decorations, loud noises and a constant flow of people at front doors. Indeed, he said, frequent visitors can cause anxiety in pets, even cause them to bolt outside in a bid to escape. Worse, some can be targeted. "It's important to keep our pets safe at Halloween as sadly, they are often victims of cruel pranksters,," Jerome said in a statement. Black cats, often associated with witchcraft, "are particularly vulnerable," he stated. Get tougher on smoking. Anti-tobacco activists are calling for dramatic new measures, including smoking bans on bar and restaurant patios, licensing and limiting tobacco retailers, anti-smoking apartment leases, to butt out the dangerous habit.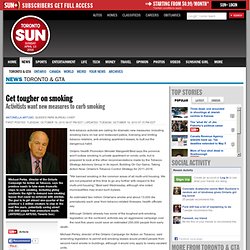 Ontario Health Promotion Minister Margarett Best says the province won't outlaw smoking in private apartment or condo units, but is prepared to look at the other recommendations made by the Tobacco Strategy Advisory Group in its report, Building On Our Gains, Taking Action Now: Ontario's Tobacco Control Strategy for 2011-2016. "We banned smoking in the common areas of all multi-unit housing. Elderly driver causes $120K in damage. TORONTO - An elderly driver went on a 120-metre path of destruction in a Scarborough parking lot Thursday afternoon, causing $120,000 in damage to eight vehicles but miraculously harming no one.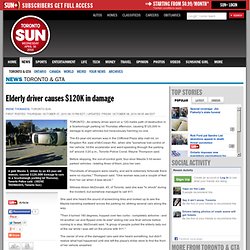 The 83-year-old woman was in the Cliffcrest Plaza strip mall lot, on Kingston Rd. east of McCowan Rd., when she "somehow lost control of her vehicle, hit the accelerator and went speeding through the parking lot" around 3:20 p.m., Toronto Police Const. Wayne Thompson said. Before stopping, the out-of-control gold, four-door Mazda 3 hit seven parked vehicles - totaling three of them, plus her own.
"Hundreds of shoppers were nearby, and we're extremely fortunate there were no injuries," Thompson said. Black widow spider in Mississauga. First Woodbridge, then Newmarket, and now, a black widow spider was spotted in Mississauga.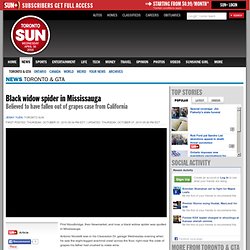 Antonio Nicoletti was in his Cleavedon Dr. garage Wednesday evening when he saw the eight-legged arachnid crawl across the floor, right near the crate of grapes his father had crushed to make wine. "The spider stood out and noticed the red on its bottom because I read the (Sun) article from last week," said Nicoletti, 42, a winemaker himself. "I knocked it to the ground and it turned into a ball and now it's sitting at a jar at home. " Alleged Bedbug Infestation Leads To Eviction Notice - Local News :: Local News. Contraband common in Barton Street jail. Hamilton Spectator Tobacco.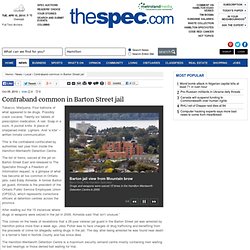 Marijuana. Four balloons of what appeared to be drugs. Possibly crack cocaine. Twenty-six tablets of prescription medication. Savage Love by Dan Savage - Columns - Savage Love - Dan Savage. September 30, 2010 By Dan Savage I'm a straight college guy, age 21, and I share a house with some buddies and a couple. This couple has been together for four years. Ten Actions ALL Parents Can Take to Help Eliminate Bullying. Educational articles are an excellent resource for parents who are interested in learning about the best parenting practices from experts in the field.
With insights from top education specialists, these parenting articles provide advice and information for both typical and unusual parenting circumstances. A large range of topics are covered in these educational articles, from back-talking toddlers to college-bound teenagers. There are also articles about best practices to use with kids and teens with specific mental and physical needs.
These parenting articles are great for anyone who wants to raise a healthy, happy child. Popular Articles. Deplorable Conditions At In Touch Retirement Living - Local News :: Local News. Bridge Projector Reminds Suicide Jumpers "You Are Not Alone" Update all of your social networks at once! Summer of the black widow. This may be the summer of the black widow spider as three wine makers have found them in grape crates shipped from California.
The Toronto Sun first wrote about a Woodbridge man finding a black widow spider in a crate of grapes last week. Donato Tersigni said it was the scare of his life Joe Frasca, of Newmarket, has been making his own wine for 20 years and this past weekend was his first encounter with the deadly little bug. "While crushing the grapes we were joking about there being black widow spiders in our crates of grapes. Well guess what. Fighting back against bed bugs. TORONTO - Mike Colle is itching for a fight. With a bed bug infestation spreading across in North America, especially in urban centres, the Toronto MPP is hosting a summit Wednesday in a bid to battle the bitsy blood-suckers. And victim Carol Gilmore will be up-front at the conference in Queen's Park to relate her summer-long nightmare. "I thought I was in hell," she told The Sun on Tuesday.
Gilmore's repeated bites began after she rented an $800-a-month room in late May from "a friend of a friend" in a home in an upscale Mississauga neighbourhood. Pleas to the owner brought various responses, from delays to occasionally spraying of her room with Raid, she said.
---