Petits bricolages
What to do with old puzzles that are missing pieces
Pas à pas - Pure Loisirs : Le meilleur des loisirs créatifs
Imprimables Lollipop Papillons et fleurs pour le printemps
Button Craft Ideas
All sizes | tinykitchen
Pour vos bijoux et objets déco, découvrez la technique de la résine pas a pas en photos.
Instants Papiers – Fiches créatives au format PDF, créations en papier et tutoriaux, DIY papercrafts, stages et ateliers en origami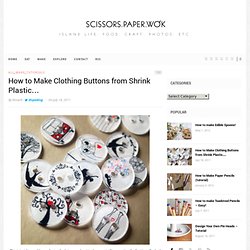 This tutorial is an old one of mine that's too good not to share again. Since posting the first time, I've had lots of questions about these buttons which will hopefully be answered in this revised post. Equipment Some handy notes: 1. The buttons.
faire un scoubidou à 3 fils - Conseils scoubidous
Comment faire un scoubidou rond à 8 fils
Voici trois modèles de boîtes originales pour apporter une touche personnelle à vos cadeaux.
Ateliers créatifs : BOITE TI' KADOS - Papier / Carton - Posca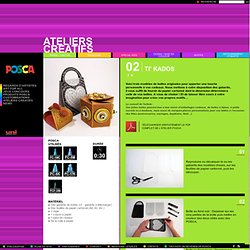 Passionnée par la mode et le loisir créatif, Aline Berrewaerts a toujours eu envie de partager son expérience. Sa formation de styliste-modéliste-conseillère en image personnelle, ainsi que son parcours professionnel lui ont permis de développer une variété de techniques et un sens aiguisé de la mode.
CUT CUT CUT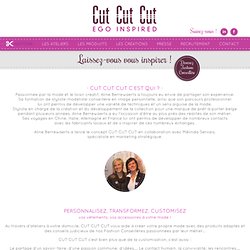 Les idees créatives - d'A little Mercerie
Step 1
DIY Baby Blocks
The DIY Origami Heart Invitations are in the mail!
I first introduced you to my origami heart engagement party invitations in this article here. Well, after a working weekend of printing, cutting, folding, sewing, stuffing, addressing and stamping... phew... my fiancé and I have finally mailed out the little cuties! Hand-stitching the edges of the translucent pocket was the most time-consuming part of the project.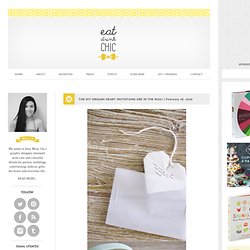 Les idees créatives - Le jeu de Morpion
Vous ne craignez aucun sortilège, le noir ne vous effraie pas et votre meilleur ami est… un fantôme ?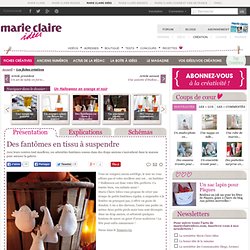 Des fantômes en tissu à suspendre
Tuto : jolis bracelets cousu avec des chutes de tissu et sac en papier de Lola - Le blog de absolumentdeco.over-blog.com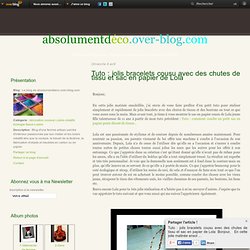 Dimanche 8 avril 7 08 /04 /Avr 08:33 Bonjour, En cette jolie matinée ensoleillée, j'ai envie de vous faire profiter d'un petit tuto pour réaliser simplement et rapidement de jolis bracelets avec des chutes de tissus et des boutons ou tout ce que vous aurez sous la main.
Croix Knot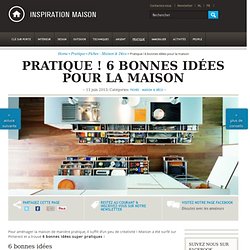 Pratique ! 6 bonnes idées pour la maison -
Pour aménager la maison de manière pratique, il suffit d'un peu de créativité !
Art Creatif | 123-tutoriels
It's cold, it's raining and quite frankly, it's utterly miserable outside at the moment. So stay in!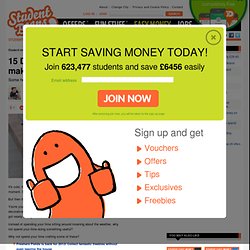 Easy DIY Wall Art For Your Home - iVillage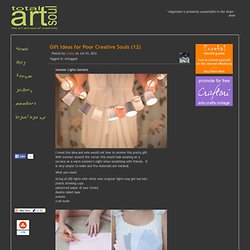 Gift Ideas for Poor Creative Souls (12)
Posted by: Cathy on Jun 03, 2012
free printable blog calendar
Button Craft Ideas
DIY: Drawer Pull Wine Stopper | The Spotted Fox
I'm so excited to share with you these DIY drawer pull wine stoppers! These little guys are fun to create with a group of your lady friends as you sip wine and act a fool. Now, onto the craftin'..
Tin Can Knitting Loom ∙ How To by DreamsInBloom on Cut Out
It's Uncanny - Make A Tin Can Knitting Loom If you've ever used a round knitting loom you know how easy they are to knit things such as hats, scarves, and socks. Making your own custom sized knitting looms can be easy and inexpensive.
(5) Facebook
Pages
(1) Pages
Time: 15 minutesMaterials: clear ornament, confetti, paper, pen Happy 2014 everyone! Being sick over New Year's left me with a bounty of unused confetti from last week's project. Rather than just toss it around the apartment (like I really wanted to), I chose to be an excellent roommate and make a resolution time capsule instead! Fill the bottom of your ornament with confetti. To make this step go faster, you can make a funnel by rolling up a piece of paper.
Dec19 by Brenda Ponnay Stuff their stockings with something they can wash their hands with!By Brenda Ponnay What's cuter than a button, small enough to fit in a stocking, won't rot your teeth and leaves you squeaky clean?
Le serviettage de nafeuse
ATITA38
Poupées en kit
Atelier custo : les marque-pages
Le plastique fou
Les idees créatives - d'A little Mercerie
Des verres à vin ardoise
Bricolage pour enfants Valentines
DIY Votives d'or | Projet de mariage simple - Blog de mariage pour la mariée Annapolis Maryland
{DIY} Aimants masking tape | Fraise Basilic
Bygg ditt eget kakfat - Faites votre propre stand gâteau | Artisanat et créativité