Outils info
Citation: Bourne PE (2007) Ten Simple Rules for Making Good Oral Presentations. PLoS Comput Biol 3(4): e77. doi:10.1371/journal.pcbi.0030077 Published: April 27, 2007 Copyright: © 2007 Philip E.
PLOS Collections: Ten Simple Rules for Making Good Oral Presentations
10 simple rules : cette rubrique contient 25 articles !
Psychiatry Journal Watch
Psychiatry Recommendations - F1000
C'est la faute aux « fact-checkeurs », ces journalistes importuns
Ouf ! On vient enfin de trouver le coupable. Qui est responsable de la dégradation du débat politique ? Du médiocre niveau de la campagne, passée à côté des grands enjeux économiques ?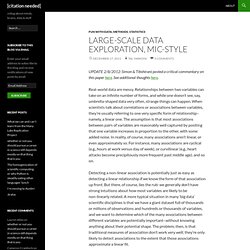 [citation needed]» Blog Archive » large-scale data exploration, MIC-style
UPDATE 2/8/2012: Simon & Tibshirani posted a critical commentary on this paper here . See additional thoughts here . Real-world data are messy. Relationships between two variables can take on an infinite number of forms, and while one doesn't see, say, umbrella-shaped data very often, strange things can happen. When scientists talk about correlations or associations between variables, they're usually referring to one very specific form of relationship–namely, a linear one.
PubCrawler Web Service
Science Exchange // Home: Index
Deja Vu: a Database of Highly Similar Citations * Click this link to begin browsing entries , or click the "Browse" button above and follow the instructions. To access the entries discovered by the SIP method, click SIP entries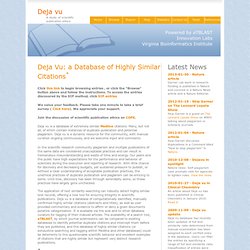 Deja vu: Medline duplicate publication database