Books
Frank Miller : The Complete Works:
art of Frank Miller
Welcome To Anne Rice.com!
Neil Gaiman - The official UK publisher's website - Home Page
Dava Sobel
WELCOME TO THE J.R.R. TOLKIEN ONLINE BOOK SHOP, brought to you by HarperCollins, J.R.R. Tolkien's official publisher, selling exclusive signed and limited editions of Tolkien's books, plus the complete range of titles available from our Tolkien list. Here, HarperCollins brings together a fascinating and definitive collection of official books written by and about one of the world's most popular and successful authors.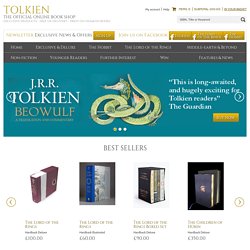 Tolkien Home | Official Tolkien Book Shop
The Lord of the Rings is an epic high fantasy novel written by English philologist and University of Oxford professor J. R. R. Tolkien . The story began as a sequel to Tolkien's 1937 children's fantasy novel The Hobbit , but eventually developed into a much larger work. It was written in stages between 1937 and 1949, much of it during World War II . [ 1 ] It is the second best-selling novel ever written , with over 150 million copies sold. [ 2 ]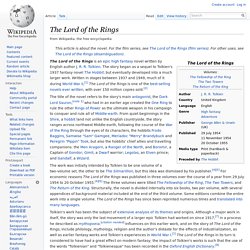 The Official Bartimaeus Site