Books
Frank Miller : The Complete Works:
art of Frank Miller
Welcome To Anne Rice.com!
Westeros Pack Charity Auction FEB 19th – 26th February 17, 2014 Help the Wild Spirit Wolf Sancturay build a new home for THE WESTEROS PACK, a pack of ten rescued Arctic hybrid Wolves named after characters in A Song of Ice and Fire series.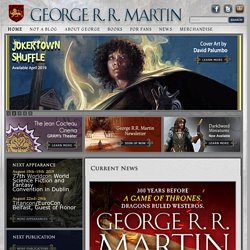 Welcome to the official UK publisher's website for Neil Gaiman's AMERICAN GODS wins 1 Book 1 Twitter vote! In a challenge to get the whole world reading the same book at the same time Jeff Howe, author of Crowdsourcing and a contributing editor at Wired magazine, launched '1 Book 1 Twitter' in May. With a dedicated Twitter account - @1B1T2010 - Howe started hot debate about which title would be chosen and voting took place throughout April.
Neil Gaiman - The official UK publisher's website - Home Page
Dava Sobel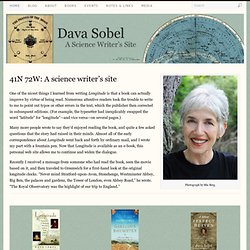 Photograph by Mia Berg. One of the nicest things I learned from writing Longitude is that a book can actually improve by virtue of being read. Numerous attentive readers took the trouble to write to me to point out typos or other errors in the text, which the publisher then corrected in subsequent editions. (For example, the typesetter had inexplicably swapped the word "latitude" for "longitude"—and vice versa—on several pages.) Many more people wrote to say they'd enjoyed reading the book, and quite a few asked questions that the story had raised in their minds. Almost all of the early correspondence about Longitude went back and forth by ordinary mail, and I wrote my part with a fountain pen.
The work was initially intended by Tolkien to be one volume of a two-volume set, the other to be The Silmarillion, but this idea was dismissed by his publisher.[4][5] For economic reasons The Lord of the Rings was published in three volumes over the course of a year from 29 July 1954 to 20 October 1955.[4][6] The three volumes were titled The Fellowship of the Ring, The Two Towers, and The Return of the King. Structurally, the novel is divided internally into six books, two per volume, with several appendices of background material included at the end of the third volume. Some editions combine the entire work into a single volume. The Lord of the Rings has since been reprinted numerous times and translated into many languages. Tolkien's work has been the subject of extensive analysis of its themes and origins. Although a major work in itself, the story was only the last movement of a larger epic Tolkien had worked on since 1917,[7] in a process he described as mythopoeia.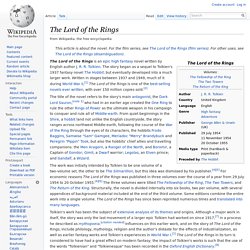 The Official Bartimaeus Site