Books
Frank Miller : The Complete Works:
art of Frank Miller
Welcome To Anne Rice.com!
Neil Gaiman - The official UK publisher's website - Home Page
Dava Sobel
The work was initially intended by Tolkien to be one volume of a two-volume set, the other to be The Silmarillion, but this idea was dismissed by his publisher.[4][5] For economic reasons The Lord of the Rings was published in three volumes over the course of a year from 29 July 1954 to 20 October 1955.[4][6] The three volumes were titled The Fellowship of the Ring, The Two Towers, and The Return of the King. Structurally, the novel is divided internally into six books, two per volume, with several appendices of background material included at the end of the third volume. Some editions combine the entire work into a single volume. The Lord of the Rings has since been reprinted numerous times and translated into many languages. Tolkien's work has been the subject of extensive analysis of its themes and origins. Although a major work in itself, the story was only the last movement of a larger epic Tolkien had worked on since 1917,[7] in a process he described as mythopoeia.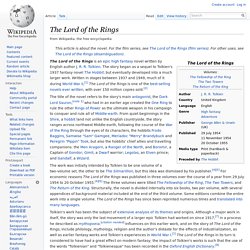 The Official Bartimaeus Site