Knitting
Free Knitting Pattern L10163 Cable Twist Hat & Scarf Set. Gina Brown's - Knitting Yarns & Classes. Scottpilgrimhat3.pdf (application/pdf Object) JG95896914.PDF (application/pdf Object) How 'bout a Nightcap? Here's a fun little pattern to embellish your gifts of spirits for the New Year.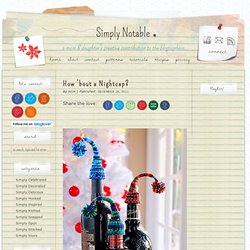 These sweet little stocking caps look adorable perched atop bottles of all kinds. Knit them in the round with small amounts of scrap yarn in about 30 minutes, then pat yourself on the back for avoiding buying another expensive, throw-away bow! Materials: 3.5 mm double pointed needles (US size 4) small amount DK to worsted yarn Instructions:
Bandana Cowl. Working at Purl Soho, I have a front row seat to the parade of effortlessly chic people that give our neighborhood its renowned style.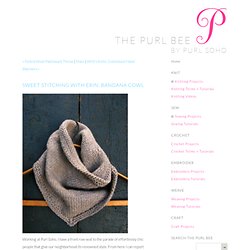 From here I can report that, for men and women alike, this season's prevailing trend in neckwear is the bandana. Jauntily tied around the neck, it tops off everything from Sunday's T-shirt and jeans to Friday's night-on-the-town dress! The bandana is a sassy, casual touch that suggests that the wearer possesses an innate stylishness. It's the perfect accessory for those cool mornings when you've hit snooze a few too many times and need to turn "thrown-together-in-a-rush" into "casually glamourous"! Incognito cowl - Knitty: Winter 2009. Mellow version: With smaller circular and CC1, loosely cast on 56[60, 64] st.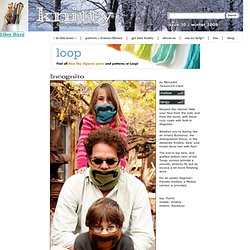 Place marker and join, being careful not to twist. Knit 9 rounds. Pottery Barn Knit Hack | Knits for Life. You always walk through stores remarking to yourself "Pshaw… I could make that!"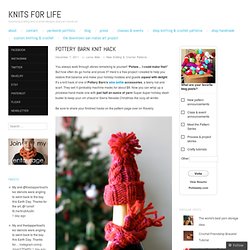 But how often do go home and prove it? Here's a free project I created to help you restore that balance and make your holiday hostess and guests squeal with delight. It's a knit hack of one of Pottery Barn's wine bottle accessories, a teeny hat and scarf.
---