webdesign
Get flash to fully experience Pearltrees
Manche Websites sind über die Jahre gewachsen wie ein ehrwürdiger Baum. Manche eher wie Unkraut im Garten: Immer mehr Informationen werden angehäuft, die Navigation zu den relevanten Inhalten wird immer schwerer. Erfrischend ist es daher zu sehen, dass in manchen Fällen eine einzige HTML-Seite genug sein kann. Die meisten Single-Page-Sites sind auf den ersten Blick nicht als solche erkennbar: Sie haben durchaus ein Menü. Nur führen die Menüpunkte eben nicht auf andere Seiten, sondern sie springen zu Abschnitten der einzigen Seite. Üblicherweise ist die Menüleiste auch fixiert, so dass sie immer an der selben Stelle auf dem Bildschirm sichtbar ist, auch wenn der Benutzer nach unten scrollt.
Vitaly Friedman's The Web Developer's Handbook creativity | css galleries & showcases | color tools | color schemes, palettes | color patterns | fashion: colors selection | color theory | royalty free photos |
The power of the Web is in its universality.
Tooltipps, also Mini-PopUps, beherrscht jeder halbwegs moderne Browser.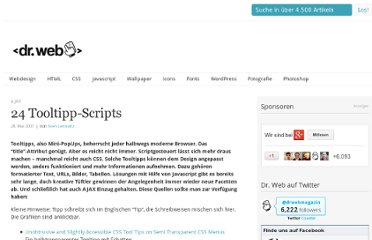 Allgemeines zur HTML-Zeichenreferenz
Web design is a fickle industry.