Outils E2.0
5 Myths About Enterprise Social Networks, Busted -- InformationWeek. Many common assumptions about enterprise social technology have proven false or become outdated.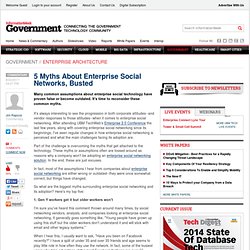 It's time to reconsider these common myths. It's always interesting to see the progression in both corporate attitudes--and vendor responses to those attitudes--when it comes to enterprise social networking. Zoom sur 4 offres françaises : Xwiki, SeeMy, Jamespot et blueKiwi. Depuis que j'ai commencé à rédiger ce blog j'ai l'impression de ne parler que de la Silicon Valley.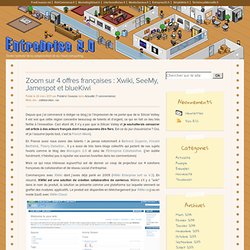 Il est vrai que cette région concentre beaucoup de talents et d'argent, ce qui en fait un lieu très fertile à l'innovation. Ceci étant dit, il n'y a pas que la Silicon Valley et je souhaiterais consacrer cet article à des acteurs français dont nous pouvons être fiers. Les réseaux sociaux d'entreprise, état de l'art et éditeurs. Nov 17th, 2010 by Anthony Poncier Dans le cadre de ICC , et du village des réseaux sociaux organisé par USEO , j'ai animé une session autour des réseaux d'expertise.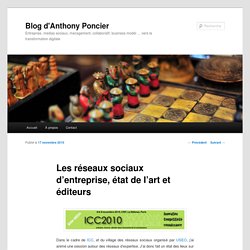 J'ai donc fait un état des lieux sur les RSE et ensuite les éditeurs ont proposé des retours d'expériences et des présentations de leur solution. C'est ma présentation et les leurs que je vous propose dans ce billet (pour mon billet précédent ICC sur la veille et les RSE c'est ici ). D'ailleurs quitte à partager de l'information sur les réseaux sociaux d'entreprise, je vous invite à aller télécharger la dernière publication d'USEO (c'est gratuit sur inscription ) sur la gestion des savoirs avec les réseaux sociaux.
Ma présentation sur un « état de l'art » autour des RSE et du collaboratif. Mais que vient faire le partage de documents dans un réseau social ? - Empower People. Collaboration 2.0 : Interaction - De l'échange spontané à la création de contenu. 01Business le 19/07/10 à 11h55 sommaire La collaboration vit un drôle de paradoxe.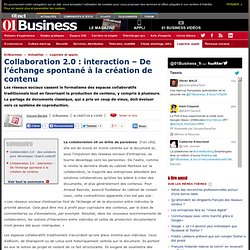 D'un côté, elle est de moins en moins centrée sur le document et, sous l'impulsion des réseaux sociaux d'entreprise, se tourne davantage vers les personnes. Réseaux-Télécoms.net. Le 12/07/2010, par Benjamin Vauchel IDG News Service, Infrastructure, 1147 mots Le collaboratif en entreprise monte en puissance.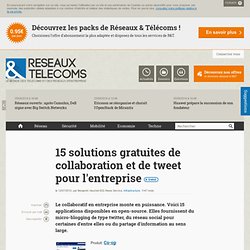 Voici 15 applications disponibles en open-source. Elles fournissent du micro-blogging de type twitter, du réseau social pour certaines d'entre elles ou du partage d'information au sens large. Produit: Co-op. Les fonctionnalités « Recruit more customers through Beezbox int. Homepage | Socialwok. Réseau Social d'Entreprise. Enterprise Wiki Software - Confluence. Scribblar.com - simple, effective online collaboration. En direct de Lotusphere 2010 | 17 au 21 janvier 2010 – En direct. IBM's Project Vulcan: The Next Generation of Lotus Notes and a R. It's kind of hilarious that William Shatner opened the IBM Lotusphere event today, especially now that IBM is launching Project Vulcan.
As one blogger asked: "You could not get Leonard Nimoy? " This is a geek dream come true: a full-on collaboration environment with an open API and a name right out of Star Trek fame. Project Vulcan is catching some attention here at IBM's annual Lotusphere event in Orlando. It isn't set for developer release until the second half of this year, but its potential as an all-encompassing cloud-based collaboration service is causing many to compare it to Google Wave.
---