Adoption E2.0
Collaboration: The 10 principles to apply before investing in collaboration tools. Collaboration is a hot topic in business today.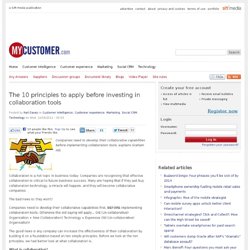 Companies are recognising that effective collaboration is critical to future business success. Many are hoping that if they just buy collaboration technology, a miracle will happen, and they will become collaborative companies. The bad news is: they won't! Companies need to develop their collaborative capabilities first, implementing collaboration tools. Otherwise the old saying will apply… Old (Un-collaborative) Organisation + New (Collaboration) Technology = Expensive Old (Un-collaborative) Organisation! Manager 2.0, un poste qui va disparaître ? Au E.20 summit de Francfort, je me suis retrouvé à animer un atelier sur le manager 2.0.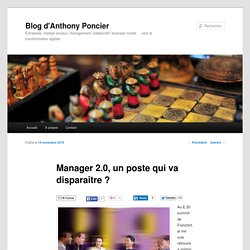 Je n'avais pas vraiment prévu cela, mais il n'y avait pas de volontaire pour ce sujet et les organisateurs content de trouver un volontaire avait aussi la sensation que cela faisait suite à ma présentation du matin. Pour ma par je pensais retrouver un petit peu ce que j'avais écrit sur le sujet ( ici et ici ), et en fait pas du tout. The Collaborative Organization: How to Make Employee Networks Really Work - The Magazine - MIT Sloan Management Review. When should a company "nickel-and-dime" customers by charging separately for various extras, and when is it better to combine all of the charges into one total price?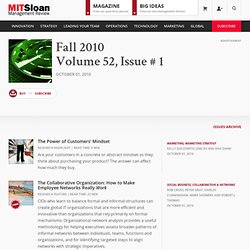 It depends on a variety of factors, such as whether customers comparison shop, whether they are more sensitive to the prices of some components (delivery) than to others, whether the price of one component is small or large relative to the others, and whether the company controls the costs and quality of a particular component. Top 10 Use Cases Enterprise Microsharing Will Help You Get Less Email. I have always wondered when would articles like eMarketer's "Social Not a Threat to E-Mail" grab that opportunity of providing a bit more of extensive details on the transition that email is currently going through at the moment moving away from being, consistently, that content repository that fits, and suits all sorts of interactions, to that messaging and notification system, a la newsfeed aggregator, that plenty of people prefer in order to keep up to date with social software tools updates.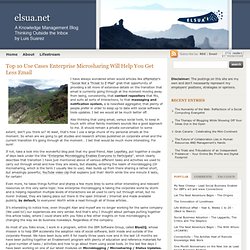 I bet we would all be much better off. Also thinking that using email, versus social tools, to keep in touch with other family members sounds like a good approach to me. It should remain a private conversation to some extent, don't you think so? At least, that's how I use a large chunk of my personal emails at the moment. Six Counterintuitive Truths About Enterprise 2.0 Adoption. A CMSWire post summed up collaboration adoption in one neat sentence recently: if it were that easy, we'd all be doing it—well .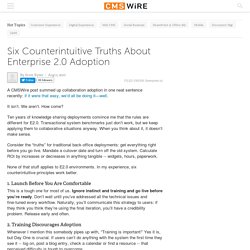 It isn't. We aren't. How come? Collaborative Culture, or the Real Enterprise 2.0. The "real" Enterprise 2.0 is not a technology or marketing plan, but the reinvention of the enterprise itself.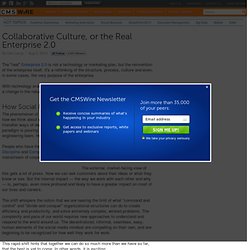 It's a rethinking of the structure, process, culture and even, in some cases, the very purpose of the enterprise. With technology erasing barriers to participation and communication, we're seeing a change in the nature of how we go about running an organization. How Social Media Is Changing Enterprise 2.0 The phenomenon of social media is starting to have a very significant impact on how we think about work. Nextmodernity » Blog Archive » Comment avancer dans vos projets. A l'occasion d' ICC 2009 , Richard Collin animait pour Nextmodernity, le jeudi 8 octobre 2009, un atelier qui avait pour but de répondre à deux questions : « ?
» et « ? » A travers 3 cas réels et avec la contribution de Marc de Fouchécour ( ) et de Bertrand Duperrin ( ), cet atelier a été l'occasion de discuter de projets 2.0 en entreprises. Nous mettons à votre disposition le support de présentation de cet atelier et si vous n'étiez pas présent à la cinquième édition d'ICC, nous avons filmé les interventions de Richard Collin, Marc de Fouchécour et de Bertrand Duperrin. L'Entreprise 2.0 expliquée à nos managers en 10 principes « Heav. (English version available there) Un des malentendus les plus fréquents lorsque l'on parle de l'Entreprise 2.0 à nos managers, c'est leur propension à réduire cette conception à une seule panoplie d'outils collaboratifs, ouaibdeuzéro (guillemets avec les doigts).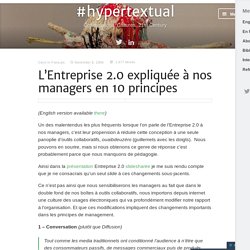 Nous pouvons en sourire, mais si nous obtenons ce genre de réponse c'est probablement parce que nous manquons de pédagogie. Entreprise 2.0 : Les promesses du management moderne enfin tenue. November 11, 2009 (English version available) All organizations say routinely 'People are our greatest asset'.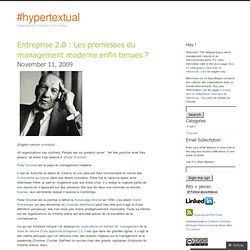 Community and social computing. Per Rachel Happe's post on the value of community management, I wanted to share some thoughts on the value that the role of a community manager can bring to a community and to a business sponsoring the community.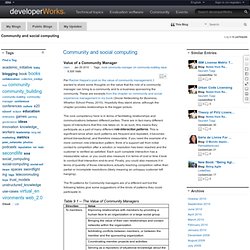 These are excerpts from the chapter on community and social experience management in my book (Social Networking for Business, Wharton School Press, 2010). Hopefully they stand alone, although the chapter provides relationships to the bigger picture. Réseaux sociaux dans l'entreprise.fr : les 5 obstacles culturels. November 1, 2009 Il s'agit d'un questionnement qu'avait déjà soumis Bertand Duperrin depuis son blog dans la préparation de cet évènement : quelles sont les spécificités de l'entreprise française qu'il convient de prendre en compte dans la mise en oeuvre de réseaux sociaux dans l'entreprise.fr.
Comme le rappelle le slide illustrant ce billet, cette approche n'implique pas seulement des outils collaboratifs mais aussi un changement profond dans notre relation au travail au sein d'une organisation. La réponse aux spécificités françaises tient en 5 obstacles culturels majeurs. Practical Advice for 2010 on 2.0 Adoption. As a year-end wrap-up, I asked a few of The 2.0 Adoption Council members to contribute some random words of advice on succeeding with 2.0 adoption. Happy New Year from Alex McKnight, Bert Sandie, Bob Singletary, Claire Flanagan, Dennis Pearce, Erik Britt-Webb, Greg Lowe, Greg Matthews, Jim Worth, Kevin Crossman, Kevin Jones, Mary Maida, Megan Murray, Rawn Shah, and Roy Wilsker. We all wish you tremendous success with your own 2.0 adoption in 2010! Planning. Management 2.0 : Leaders. Beaucoup de managers s'inquiètent pour leur statut dans le cadre d'une organisation collaborative.
En effet, si leur rôle évolue, leur comportement va devoir aussi évoluer. Etre un manager, ne veut pas dire être un leader ou faire preuve de leadership. Et pourtant dans le cadre d'une organisation collaborative, les managers vont surtout devoir faire preuve de leadership. C'est à dire passer de compétences manageriales à une posture de leadership. Adoption Can't Be Driven: Enterprise 2.0.
By Paula Thornton The wagons are circling…around the wrong campfire. Clearly, adoption is an important part of Enterprise 2.0 efforts. The FASTforward Blog team believes it's significant enough that we're shifing our focus to the topic. But the language of adoption for 2.0 is broken: Blog Muse : système expérimental IBM pour animer les blogs d'ent. Les médias et réseaux sociaux d'entreprise ont le vent en poupe en ce moment.
Plusieurs salons et conférences sont consacrés à ce sujet et attirent de plus en plus les professionnels. Peu importe le secteur d'activité ou le cœur de métier de l'entreprise, la considération est autour de l'échange à haute valeur ajoutée entre ses collaborateurs. Outils collaboratifs : entre syndromes du canard et de Paris | C. Vers l'entreprise 2.0 : E2.0 evangelists : the Revolutionaries and the Evolutionaries « 8 Guiding Principles for Pilot Programs: A Key for Enterprise 2. How Enterprise 2.0 nurtures employees engagement « Hypertextual. The Content Economy by Oscar Berg: Authentic concerns about soci. The secret second reason why your intranet news goes unread | ki.
How to tell when Enterprise 2.0 is not appropriate for your orga. Etes vous prêt pour pass.
---