Specialized Organizations
Inter-American Institute for Cooperation on Agriculture. IIN. "World Day Against Child Labour", Debate on Child Labour in Uruguay: Actual Situation, Challenges, and Opportunities On the occasion of celebrating the World Day Against Child Labour, the Director General of the IIN, Maria de los Dolores Aguilar Marmolejo, participated as lecturer during the Debate organized by the National Committee for the Eradication of Child Labour (CETI) of Uruguay.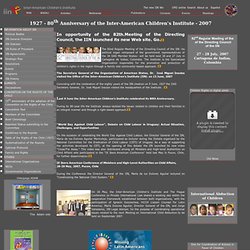 As a way of supporting the activities developed by CETI, at the opening of this debate the IIN launched its new video "Close/Far Away. " This video was also distributed among all Ministers and High-level Authorities on Child Affairs who participated in the "IX Ibero American Conference" held last May in Pucon, Chile, for further dissemination. Annual Report - Inter-American Indian Institute. Created under the 1940 Pátzcuaro International Convention, the basic objectives of the Inter-American Indian Institute are to assist in coordinating the Indian affairs policies of the member States and to promote research and training of individuals engaged in the development of indigenous communities.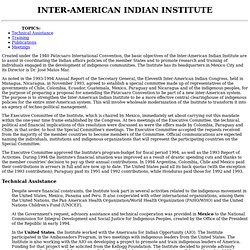 The Institute has its headquarters in Mexico City and its Director is Dr. José Matos Mar. As noted in the 1993-1994 Annual Report of the Secretary General, the Eleventh Inter-American Indian Congress, held in Managua, Nicaragua, in November 1993, agreed to establish a special committee made up of representatives of the governments of Chile, Colombia, Ecuador, Guatemala, Mexico, Paraguay and Nicaragua and of the indigenous peoples, for the purpose of preparing a proposal for amending the Pátzcuaro Convention to be part of a new inter-American system. PAHO/WHO - OPS/OMS. Pan American Institute of Geography and History - PAIGH.
---