Smart TV & Privacy
www.chairelrwilson.ca/cours/drt3805/Pointsdevueregulationtrudel.pdf
https://www.ip-rs.si/fileadmin/user_upload/Pdf/smernice/Guidelines_regarding_digital_television_and_privacy_protection.pdf
Videonet - News and Analysis - EBU outlines hybrid broadcast expectations
Kudelski Security. Securely Yours. Kudelski Security, a newly created division of the Kudelski Group, is an innovative independent Swiss provider of tailored cyber security solutions and services to enterprises, financial institutions, government administrations and the media industry.
www.nagravision.com/inthenews/Videonet_UEX-report_Nagravision_OpenTV.pdf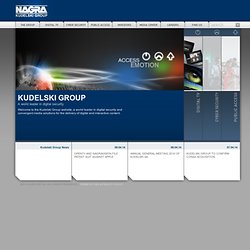 www.euroitv2009.org/docs/adjunct_proceedings/posters/ARROYO, LORA, et al. - posters.pdf
edissertations.nottingham.ac.uk/1045/1/07MSclixmi1.pdf
www.futurescape.tv/about_reports/Futurescape-Connected-TV-White-Paper.pdf
With its latest campaign for the A7 Sportback car, Audi is trying to take targeted ads to the next level. Working with video ad network Smartclip, MediaCom, and cloud-based TV platform Woomi, the car manufacturer targeted ads directly to a select demographic of upmarket men, and will run across connected TVs from LG and Samsung which both have ties with Smartclip. It has also launched its own TV app. According to Smartclip's UK MD Sam Kayum, "This is the first ever connected-TV campaign in the UK that's delivered across different web apps on multiple connected TVs."
RELEVANT ADVERTISING AND CONNECTED TV: THE FUTURE IS PERSONAL | The Filter: Team Blog
Florence Le Borgne, Responsable de la Business Unit TV & Contenus numérique 100%média : L'IDATE a organisé le DigiWorld summit les 17 et 18 novembre sur le thème «Qui finance l'Internet du futur ?». La TV connectée y a occupé une grande place… Impactera-t-elle le marché publicitaire ? Florence Le Borgne : Grâce aux solutions de télévision connectée, de nouveaux services et contenus font progressivement leur apparition sur le téléviseur, en complément ou en concurrence des usages traditionnels du petit écran.
Blog Offremedia » services OTT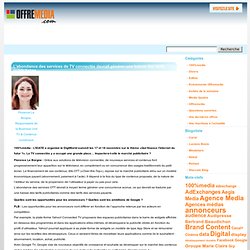 lesrapports.ladocumentationfrancaise.fr/BRP/114000258/0000.pdf
cfp.mit.edu/events/Oct09/CFP Fall09 Presentations/CFP-Fall09-Sollins-PrivSec.pdf
soc.kuleuven.be/com/mediac/socialitv2/papers/Exploring_(Community)_Awareness_in_Social_TV_Environments.pdf
ec.europa.eu/avpolicy/docs/library/studies/finalised/studpdf/bbpres_4.pdf
www.w3.org/2010/09/web-on-tv/slides/ARC-revised.pdf
Les enjeux juridiques de la TV connectée