MUSIQUE
So hello to you all and thanks for your patience. I'm just back from working on the next two Vas Deferens Organization projects in California, which is why there's been a lapse here on Mutant, but new posts should hopefully appear within a week or so now that I can devote myself again to Mutant related activities. Until then and if you're in New York next week, please don't miss the chance to take in VDO collaborator Michael Alan's performance at the Brooklyn's New Museum's Untapped street festival. This takes place in Manhattan on May 4th from noon to 4 PM at Sara D. Roosevelt Park, a bacchanal that'll include music from our collaboration with him. This album (Michael Alan Alien & Vas Deferens Organization-All You Can Eat) is now set for release as an LP later in the year via Beta-Lactam Ring Records (specifics forthcoming later).
Ocelle Mare 04.03.07 Grrrnd Zero - Lyon
INCROYABLE TALENT (LIVE) 2011
MF DOOM
Metal Face DOOM has been one of my favorites for a while now, but I have recently become re-obsessed with him. Dude's got a crazy history (check out his wiki), and goes by and has released albums under many names: DOOM / MF DOOM / Viktor Vaughn / Madvillain / Super Villain / Dangerdoom / King Geedorah / Metal Fingers etc. Check out some of his stuff - this dude is soo ill: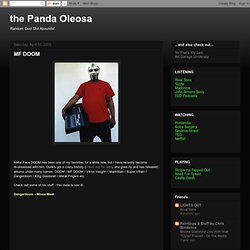 Les Blondettes sur Myspace Music - Ecoute gratuite de MP3, Photos et clips vidéos
rature groupe rap hip hop experimental
Bio: Direction survet évolue dans la complexe galaxy électronique, façonne un rock progressif spécial à l'aide de guitare double-manche blanche, samplers, batterie et super synthétiseurs wurlitzer MS 20. Après un 1er album enregistré en novembre 2007, de nombreux concerts (nuits sonores 2011), tournées (avec Super fédor, les blondettes), nous sortons un nouvel album (Lp et cd): KAIROS 84 sur folkwelt et S K records, avec 2 sorties prévues: le 12.11.11 au folkwelt festival no4 (brise glace annecy, avec orchidée d'hawai, Impérial tiger Orchestra www.folkwelt.net ), et à lyon le 18.11.11 avec Ned!!
Direction survet sur Myspace Music - Ecoute gratuite de MP3, Photos et clips vid?os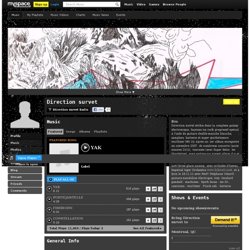 Folkwelt
SK RECORDS
Les bonnes nouvelles pleuvent, tout va bien chez S.K Records en ce moment, avec notamment la sortie du nouvel (excellent) album de Sheik Anorak, oscillant entre post-rock, free rock, indie et avant pop. Première mouture en CD en coproduction avec Gaffer Records, une version vinyle à venir. L'album est en écoute intégrale et commandable sur notre bandcamp, foncez. http://skrecords.bandcamp.com/album/keep-your-hands-low Si vous voulez en savoir plus, de très bon papiers et des interviews probantes sont dispo sur Le Zèbre, Mowno, et Discordance. Sans oublier la release party mercredi 05/03, à la Triperie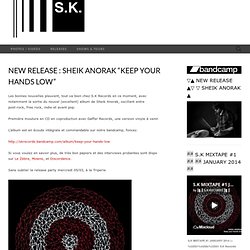 Grrrnd Zero
lllliillll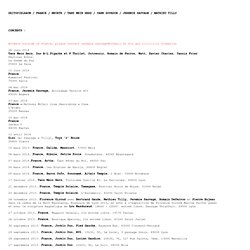 Bookers outside of France, please contact jeremie.sauvage@hotmail.fr for any lllliillll formation 28 juin 2014 Tanz Mein Herz, Duo A-L.Pigache et P.Thollet, Outrenoir, Romain de Ferron, Watt, Xavier Charles, Yannis Frier Festival Echos. La ferme du Faï 05400 Le Saix
PAN PAN PAN