Psychonauts
Psychedelic '60s: Home Page
Character Vaults
Timothy Leary Vault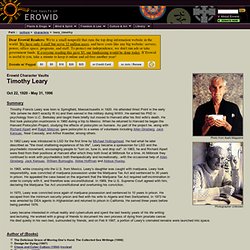 Timothy Francis Leary was born is Springfield, Massachusetts in 1920.
Timothy Leary
rotten > Library > Biographies > Mad Science > Timothy Leary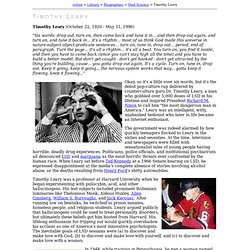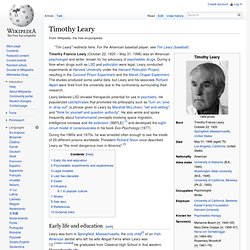 Timothy Francis Leary (October 22, 1920 – May 31, 1996) was an American psychologist and writer, known for his advocacy of psychedelic drugs .
Albert Hofmann Vault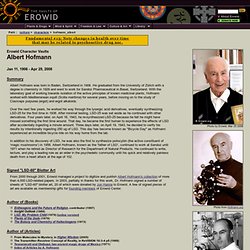 Albert Hofmann was born in Baden, Switzerland in 1906.
Albert Hofmann
Terence McKenna was a psychedelic author, explorer, and showman. He was born in 1946 and grew up in Paonia, Colorado. In high school he moved to Los Altos, California, and from there attended U.C.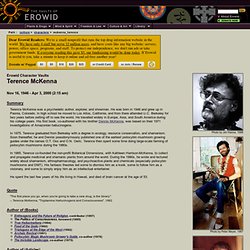 Terence McKenna Vault
Terence McKenna
rotten > Library > Biographies > Mad Science > Terence McKenna Terence McKenna was the Magellan of psychedelic head space, and humanity's first ambassador to the hyperdimensional machine elves of the Eschaton.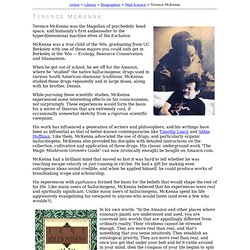 If anyone ever wanted to get to know me (i.e., what makes Daniel tick) the first thing I would have to tell them is, "Read Terence McKenna." In online forums and real life scenarios alike, I quote McKenna like Jules Winnfield quotes Ezekiel in Pulp Fiction .
Why Terence McKenna Matters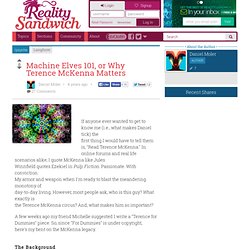 Terence McKenna on Myspace