Psychonauts
Psychedelic '60s: Home Page. THE SUMMER OF 1967, with its "Love-Ins," "Be-ins," and "Flower Power," came to be known as "The Summer of Love," and was one of the seminal moments of our generation.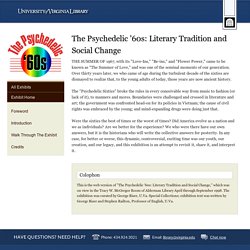 Over thirty years later, we who came of age during the turbulent decade of the sixties are dismayed to realize that, to the young adults of today, those years are now ancient history. The "Psychedelic Sixties" broke the rules in every conceivable way from music to fashion (or lack of it), to manners and mores. Boundaries were challenged and crossed in literature and art; the government was confronted head-on for its policies in Vietnam; the cause of civil rights was embraced by the young; and mind-expanding drugs were doing just that. Were the sixties the best of times or the worst of times? Did America evolve as a nation and we as individuals? Character Vaults. Timothy Leary Vault. Timothy Francis Leary was born is Springfield, Massachusetts in 1920.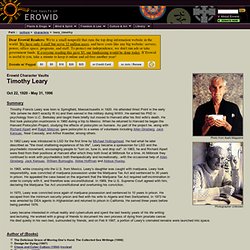 He attended West Point in the early '40s (where he didn't exactly fit in) and then served in the military during WWII. He earned his PhD in psychology from U.C. Berkeley and taught there briefly but moved to Harvard after his first wife's death. He first took psilocybin mushrooms in 1960 during a trip to Mexico. Timothy Leary. Rotten > Library > Biographies > Mad Science > Timothy Leary Timothy Leary (October 22, 1920 - May 31, 1996) "Six words: drop out, turn on, then come back and tune it in... and then drop out again, and turn on, and tune it back in... it's a rhythm... most of us think God made this universe in nature-subject object-predicate sentences... turn on, tune in, drop out... period, end of paragraph.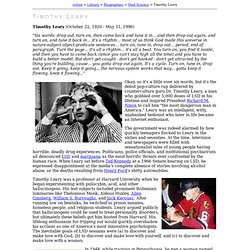 Turn the page... it's all a rhythm... it's all a beat. Timothy Leary. Leary believed LSD showed therapeutic potential for use in psychiatry.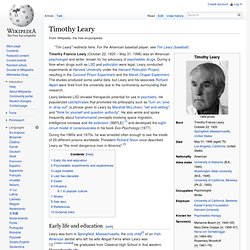 He popularized catchphrases that promoted his philosophy such as "turn on, tune in, drop out" (a phrase given to Leary by Marshall McLuhan); "set and setting"; and "think for yourself and question authority". He also wrote and spoke frequently about transhumanist concepts involving space migration, intelligence increase and life extension (SMI²LE),[1] and developed the eight-circuit model of consciousness in his book Exo-Psychology (1977). During the 1960s and 1970s, he was arrested often enough to see the inside of 29 different prisons worldwide. President Richard Nixon once described Leary as "the most dangerous man in America".[2]
Albert Hofmann Vault. Albert Hofmann was born in Baden, Switzerland in 1906.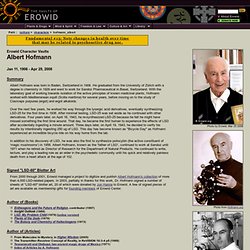 He graduated from the University of Zürich with a degree in chemistry in 1929 and went to work for Sandoz Pharmaceutical in Basel, Switzerland. With the laboratory goal of working towards isolation of the active principles of known medicinal plants, Hofmann worked with Mediterranean squill (Scilla maritima) for several years, before moving on to the study of Claviceps purpurea (ergot) and ergot alkaloids. Over the next few years, he worked his way through the lysergic acid derivatives, eventually synthesizing LSD-25 for the first time in 1938.
After minimal testing, LSD-25 was set aside as he continued with other derivatives. Albert Hofmann. Terence McKenna Vault. Terence McKenna was a psychedelic author, explorer, and showman.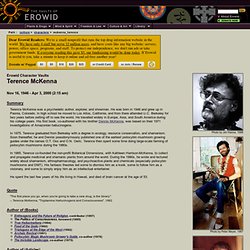 He was born in 1946 and grew up in Paonia, Colorado. In high school he moved to Los Altos, California, and from there attended U.C. Terence McKenna. Rotten > Library > Biographies > Mad Science > Terence McKenna Terence McKenna was the Magellan of psychedelic head space, and humanity's first ambassador to the hyperdimensional machine elves of the Eschaton.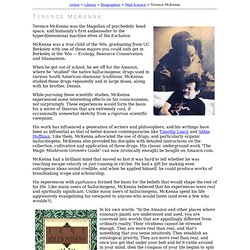 McKenna was a true child of the '60s, graduating from UC Berkeley with one of those majors you could only get in Berkeley in the '60s — Ecology, Resource Conservation and Shamanism. When he got out of school, he set off for the Amazon, where he "studied" the native hallucinogenic drugs used in various South American shamanic traditions. McKenna studied these drugs repeatedly and in large doses, along with his brother, Dennis. While pursuing these scientific studies, McKenna experienced some interesting effects on his consciousness, not surprisingly. Why Terence McKenna Matters. If anyone ever wanted to get to know me (i.e., what makes Daniel tick) the first thing I would have to tell them is, "Read Terence McKenna.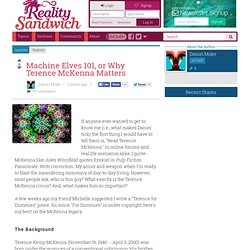 " In online forums and real life scenarios alike, I quote McKenna like Jules Winnfield quotes Ezekiel in Pulp Fiction. Passionate. With conviction. Terence McKenna on Myspace.
---