Psychonauts
THE SUMMER OF 1967, with its "Love-Ins," "Be-ins," and "Flower Power," came to be known as "The Summer of Love," and was one of the seminal moments of our generation. Over thirty years later, we who came of age during the turbulent decade of the sixties are dismayed to realize that, to the young adults of today, those years are now ancient history. The "Psychedelic Sixties" broke the rules in every conceivable way from music to fashion (or lack of it), to manners and mores. Boundaries were challenged and crossed in literature and art; the government was confronted head-on for its policies in Vietnam; the cause of civil rights was embraced by the young; and mind-expanding drugs were doing just that. Were the sixties the best of times or the worst of times? Did America evolve as a nation and we as individuals?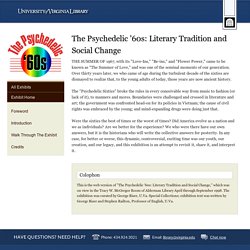 Character Vaults
Timothy Leary Vault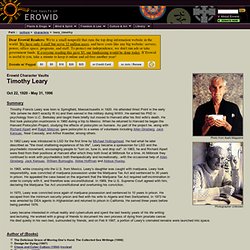 Timothy Francis Leary was born is Springfield, Massachusetts in 1920.
Timothy Leary
rotten > Library > Biographies > Mad Science > Timothy Leary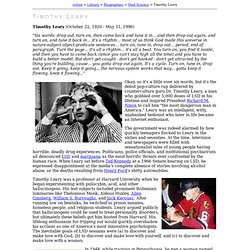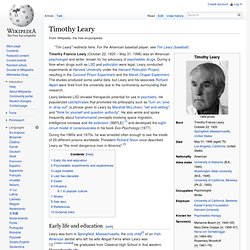 Leary believed LSD showed therapeutic potential for use in psychiatry.
Albert Hofmann Vault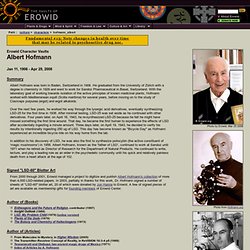 Albert Hofmann was born in Baden, Switzerland in 1906.
Albert Hofmann
Terence McKenna was a psychedelic author, explorer, and showman. He was born in 1946 and grew up in Paonia, Colorado. In high school he moved to Los Altos, California, and from there attended U.C.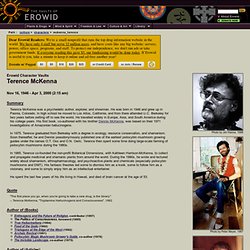 Terence McKenna Vault
Terence McKenna
rotten > Library > Biographies > Mad Science > Terence McKenna Terence McKenna was the Magellan of psychedelic head space, and humanity's first ambassador to the hyperdimensional machine elves of the Eschaton.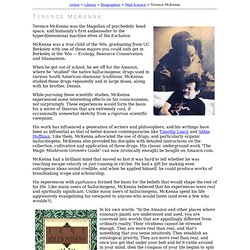 If anyone ever wanted to get to know me (i.e., what makes Daniel tick) the first thing I would have to tell them is, "Read Terence McKenna." In online forums and real life scenarios alike, I quote McKenna like Jules Winnfield quotes Ezekiel in Pulp Fiction. Passionate. With conviction.
Why Terence McKenna Matters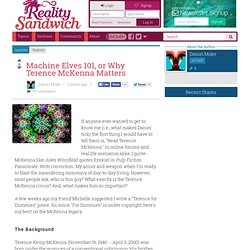 Terence McKenna on Myspace