Ubuntu
Linux NFS faq. Managing NFS and NIS, 2nd Edition. By Hal Stern, Mike Eisler and Ricardo LabiagaISBN: 1-56592-510-6Second edition, published June 2001.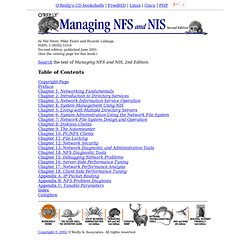 (See the catalog page for this book.) Search the text of Managing NFS and NIS, 2nd Edition. Configuration Samba de Ubuntu 10.04 pour réseau domestique (Page 1) / Accès internet et réseaux. Le contexte : - Un PC doit pouvoir partager ses fichiers avec accès en lecture et en écriture dans le cas où il démarre sous XP ou bien dans le cas où il démarre sous Ubuntu 10.04 (ceci explique que les fichiers partagés sont sur des partitions NTFS et que je suis amené à utiliser ntfs-config)- les partages de chaque PC sont accessibles en lecture et écriture depuis les autres PC - Comme mon réseau domestique est derrière une freebox V5 en mode routeur mais avec un des PC autorisé en DMZ, j'ai pu vérifier avec la fonction FreeWifi de la freebox certaines vulnérabilités auxquelles je pense (que dire d'autre...) avoir remédié dans la procédure ci-dessous (la fonction FreeWifi me permet de simuler un PC qui tenterait de pénétrer de l'extérieur du réseau domestique) 1) Montage des partages.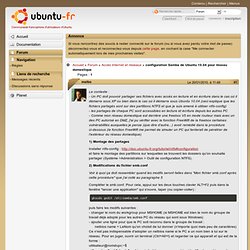 How to change the hostname / domainname on a Linux system | Random Bugs. If you forget to set your correct hostname / domainname at your linux installation then you can easily fix it if you follow the next steps from this "tutorial".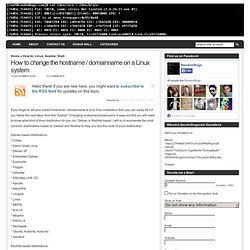 Changing hostname/domainname is easy but first you will need to know what kind of linux distribution do you run: Debian or RedHat based. I will try to enumerate the most common distributions based on Debian and RedHat to help you find the roots of yours distribution. Debian based distributions: * Collax * Damn Small Linux * Debian JP * Embedded Debian * Euronode * Floppix * Gibraltar * GNUstep LIVE CD * Kanotix * KNOPPIX * Linspire * Linex * MEPIS * M.N.I.S * Morphix * RAYS LX * Stonegate * Ubuntu, Kubuntu, Xubuntu * Xandros.
---