Vimeo3D
Superpollo. Perdue "Getting Fresh" Organikos Teaser. Nickelodeon - Safari Fruit Nutritional Facts. V8 V-FUSION. ZIIIRO GRAVITY. Tech MD Animation. PIX Id C. Super Mario Galaxy 2 - Prepare for Liftoff! (Kids) Super Mario Galaxy 2 "Lift Off" TVC. 5 RULES IN LOGO DESIGN. Easter. Flying - Typographic experiment with particular. Top Secret - After Effects Templates. 5 thing to know about typography. 2D experiments - Text. ICC in Crisis? - Motion Graphics Collective. Flex Alert Program - Education "Community" :30.
Welcome to The Magic - A Disneyland Timelapse. "Pure geometry" by Romanowsky. Pricena infographic. Parallel Stoves. The Changing Shape of Cinema: The History of Aspect Ratio. John Hess From FilmMakerIQ.com traces the evolution of the screen shape from the silent film days through the widescreen explosion of the 50s, to the aspect ratio of modern digital cameras.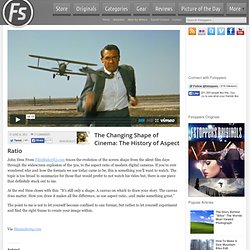 If you've ever wondered why and how the formats we use today came to be, this is something you'll want to watch. The topic is too broad to summarize for those that would prefer to not watch his video but, there is one piece that definitely stuck out to me. At the end Hess closes with this: "It's still only a shape. A canvas on which to draw your story. BeyondTV. KTM XBOW HDRI Breakdown. Volkswagen - People's Car Project - Morphing.
Bendy Bus rigging demo 2011. OBLIVION GFX Montage. 31 Absolutely Spectacular VFX Breakdowns. Recently, I had the chance to talk with Eric Dima-ala, a matte painter, digital artist, and Tuts+...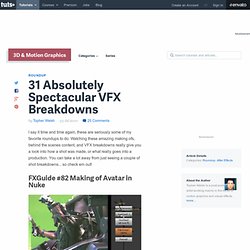 Recently, I had the chance to talk with Eric Dima-ala, a matte painter, digital artist, and Tuts+ author from the Philippines. Eric has worked on some exciting projects including Ender's Game, Oblivion, Jack the Giant Slayer, Mission Impossible: Ghost Protocol, Transformers: Dark of the Moon and Revenge of the Fallen, and many more. HDRI Studio Pack Renders.
UniversidadLondres
SEQUOIA - TESTIMONY OF A SNAIL - MAKING OF. La historia de Nintendo. Cinema 4D. L.php?u=http%3A%2F%2Fwww.youtube. Iron Man vs Bruce Lee. Lamborghini Aventador.
---