Virtualization
Parce que, du cloud, c'est de la virtualisation. Mais la virtualization c'est pas du cloud... Humm, tâchons d'y penser... Jul 29
Player : exécutez Windows 7, Chrome OS - Téléchargement gratuit pour un PC virtuel
With virtualisation now a mainstream technology for most large businesses, the big players like EMC (VMWare), IBM and Microsoft are investing heavily in proprietary options for running multiple guest operating systems on a single machine. In addition to the commercial products, there is a vibrant open source virtualisation ecosystem that CIOs can consider for public and private cloud infrastructure. In this edition of five open source things to watch, we take a look at virtualisation software that can consolidate infrastructure without shrinking the savings.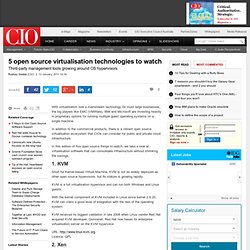 5 open source virtualisation technologies to watch - xen, virtualisation, virtualbox, OpenVZ, open source, Linux, Lguest, kvm, hypervisor
Emulation / Virtualization Categories
Open Source - Virtualization and Emulation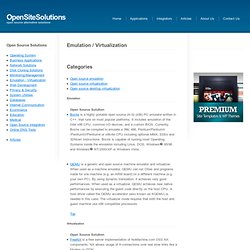 The Current State of Open Source Virtualization | Virtualization.com
We've started by looking back at a decade of Open Source virtualization, and in this second part of the series we'll tackle today's landscape (last updated in March 2008).