Outils
ça dépanne bien !!!
Frequence Radio | Radio FM | Ecouter la Radio. Softonic - téléchargement Softwares. Photo editor online / free image editing direct in your browser - Pixlr.com. Online image editor pixlr free - fix photos direct in your browser. SaaS Feedback and Reviews Management Software, Applications and Tools. Zygote Body. Montrez ce que vous savez. TopTenREVIEWS - compare, test & review. Sondages, Chiffres et Opinions | Sondage gratuit pour site.
Convertiseur de monnaie. Le Huard, la monnaie canadienne Le Canada fait partie du Commonwealth et donc, bien que totalement économiquement et politiquement autonome, la Reine Elisabeth d'Angleterre est souveraine du Canada (tout comme l'Australie ou la Nouvelle Zélande d'ailleurs).
Il n'est donc pas étonnant que l'on retrouve la "pomme" de la reine sur tous les versos des pièces de monnaies canadienne ainsi que sur le billet de 20 dollars. En dehors de ça, les billets arborent généralement les bustes des anciens premiers ministres du début du 20ème siècle tandis que sur les pièces sont représentées quelques emblèmes culturels du Canada : Castor, Caribou, le Huard (canard) ou l'ours polaire. La feuille d'érable ne se retrouve qu'en filigrane sur tous les billets de banque. Convertiseur d'unité. Media Converter - the fastest free online audio and video converter.
Compteur de caractères. Traducteur SMS vers Français !
Cartes de voeux virtuelles. Faire-part naissance, création de faire-part de naissance et cartes personnalisés. Noeuds de cravate. TimeTicker and the time tickers... Indicatif téléphonique. Cette page vous propose l'ensemble des indicatifs téléphoniques par pays pour téléphoner à l'international.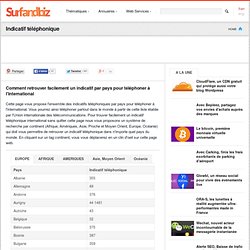 Vous pourrez ainsi téléphoner partout dans le monde à partir de cette liste établie par l'Union internationale des télécommunications. Pour trouver facilement un indicatif téléphonique international sans quitter cette page nous vous proposons un système de recherche par continent (Afrique, Amériques, Asie, Proche et Moyen Orient, Europe, Océanie) qui doit vous permettre de retrouver un indicatif téléphonique dans n'importe quel pays du monde. Souvenez-vous de tout | Evernote Corporation. Outil de gestion de tâches en ligne - Producteev. Evernote. Evernote is a suite of software and services designed for notetaking and archiving.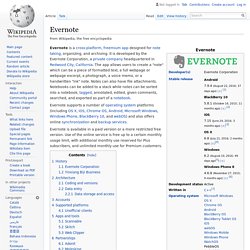 A "note" can be a piece of formatted text, a full webpage or webpage excerpt, a photograph, a voice memo, or a handwritten "ink" note. Notes can also have file attachments. Notes can be sorted into folders, then tagged, annotated, edited, given comments, searched and exported as part of a notebook. Diigo - Web Highlighter and Sticky Notes, Online Bookmarking and Annotation, Personal Learning Network. Diigo. Premium account holders can perform full-text searches of cached copies of bookmarks.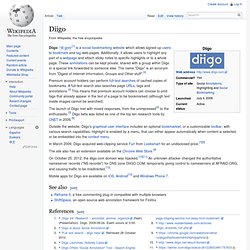 A full-text search also searches page URLs, tags and annotations.[3] This means that premium account holders can choose to omit tags that already appear in the text of a page to be bookmarked (although text inside images cannot be searched). The launch of Diigo met with mixed responses, from the unimpressed[4] to the enthusiastic.[5] Diigo beta was listed as one of the top ten research tools by CNET in 2006.[6] Outside the website, Diigo's graphical user interface includes an optional bookmarklet, or a customizable toolbar, with various search capabilities.
Highlight is enabled by a menu, that can either appear automatically when content is selected, or be embedded into the context menu. In March 2009, Diigo acquired web-clipping service Furl from Looksmart for an undisclosed price.[7][8] Clipboard - Select. Collect. Reflect.