AIR
Get flash to fully experience Pearltrees
The Adobe Integrated Runtime (AIR) platform changes the game for web developers, taking standard web technologies such as HTML, CSS, and JavaScript, and bringing them into a desktop application environment. In this tutorial, I'll show you how to build a personal notes database with Adobe AIR . Make sure you pay close attention though – there will be a quiz at the end! The first 100 people to complete the quiz will win a copy of the pocket guide Adobe AIR For JavaScript Developers , delivered to their front door for FREE, thanks to Adobe. You can also download the book in PDF format for free for a limited time, so get cracking! In this article, we're going to explore the client-side capabilities of Adobe AIR by building a simple, local notes database – think of it as your own personal paste bin .
Adobe AIR has become a popular platform for internet-enabled desktop applications. If you're a designer, AIR applications will help you with a multitude of tasks that will make your life easier, aiding you in streamlining your workflow. Close to a year ago, we wrote a post on this topic , and since then there have been great advances and even more awesome AIR apps for designers.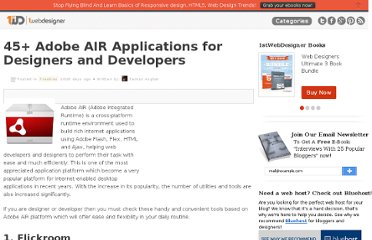 Adobe AIR (Adobe Integrated Runtime) is a cross-platform runtime environment used to build rich internet applications using Adobe Flash, Flex, HTML and Ajax, helping web developers and designers to perform their task with ease and much efficiently. This is one of the most appreciated application platform which become a very popular platform for internet-enabled desktop applications in recent years. With the increase in its popularity, the number of utilities and tools are also increased significantly. If you are designer or developer then you must check these handy and convenient tools based on Adobe AIR platform which will offer ease and flexibility in your daily routine. 1. Flickroom
Adobe AIR is one of the most under-appreciated application platforms, but the number of applications available for AIR make it incredibly useful. There are apps for everything from business to shopping to image management to video editing. And plenty of applications are useful to designers and developers , including HTML text editors, Flickr search apps, color palette management tools and even ones to help with the business side of the industry.
May 06 2010 Adobe AIR (Adobe Integrated Runtime) is a free runtime environment that can be used by the developers to develop highly interactive internet and media applications for multiple platforms. It enables web developers to utilize their current development skills and deliver rich applications and content to user's desktop. It combines the web development technologies like Ajax, HTML, Flash and Flex so that developers with existing knowledge of these technologies need not learn a new framework and they can utilize Adobe AIR integrated platform to deploy extremely sophisticated internet applications.
Adobe AIR was first introduced on 19 March 2007 with the name of Apollo and designed as a cross-operating system runtime that enables web developers to use their existing web development skills, code and tools to build and deploy rich web applications and content to the desktop. With Adobe AIR's rich features, developers are able to build application using HTML, Ajax, JavaScript, Flex and Flash. Therefore, we strongly believe that Adobe Air has unleashed the power to extend user experiences beyond the browser. Here's our collection of 60+ Adobe AIR Application you should know .