Twitter
A Comprehensive Guide on How to Behave on Twitter. Some months ago, a famous tweet was often distributed, highlighting perfectly the current situation of the most used social networks: " Facebook is for colleagues you have in school, Twitter is for people you want to be colleagues in school".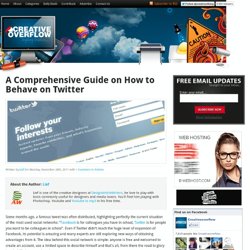 Even if Twitter didn't reach the huge level of expansion of Facebook, its potential is amazing and many experts are still exploring new ways of obtaining advantages from it. The idea behind this social network is simple: anyone is free and welcomed to create an account, use a limited space to describe himself and that's all, from there the road to glory is only 140 characters length. Users who are offering useful and interesting tweets will be appreciated by the Twitter community and step-by-step they will be followed by many other users of the network. More exactly, anyone can follow anyone, but no one will follow someone that has nothing worthy to say. 10 Twitter tools for better social networking. Above all the social networks out there, I found that Twitter is by far the most powerful to build and grow a personal brand around yourself.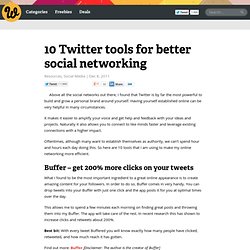 Having yourself established online can be very helpful in many circumstances. It makes it easier to amplify your voice and get help and feedback with your ideas and projects. Naturally it also allows you to connect to like minds faster and leverage existing connections with a higher impact. Oftentimes, although many want to establish themselves as authority, we can't spend hour and hours each day doing this. So here are 10 tools that I am using to make my online networking more efficient. 45 Fabulous Examples Of Illustrated Twitter Backgrounds. 5 Websites To Schedule Your Tweets | Tools. You all must be familiar with Twitter, go Google it if not, and the purpose it is used for.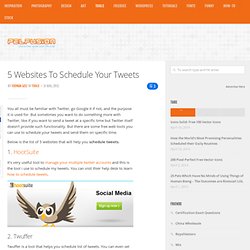 But sometimes you want to do something more with Twitter, like if you want to send a tweet at a specific time but Twitter itself doesn't provide such functionality. But there are some free web tools you can use to schedule your tweets and send them on specific time. Below is the list of 5 websites that will help you schedule tweets. 1. HootSuite. How Freelancers Can Brand Themselves Using Twitter Trends. Effective Use of Twitter for Designers. Almost everyone has a Twitter account and uses it almost everyday to be updated with everything under the sun.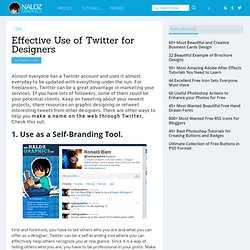 For freelancers, Twitter can be a great advantage in marketing your services. If you have lots of followers, some of them could be your potential clients. How to Make the Best Use of Twitter for Your Business. Twitter is one of the most popular social networking websites and I am sure everyone is aware about this website.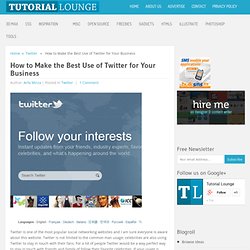 Twitter is not limited to the common man usage; celebrities are also using Twitter to stay in touch with their fans. For a lot of people Twitter would be a way perfect way to stay in touch with friends and family of follow their favorite celebrities. If your usage is limited to these things, you are not making the most out of Twitter which you should. Twitter Marketing Guide: Bigger, Longer & Uncut. Hi, my name is Tim and I'm pretty sure that you've landed here right from your Twitter account.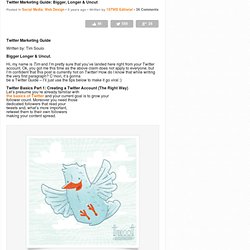 Ok, you got me this time as the above claim does not apply to everyone, but I'm confident that this post is currently hot on Twitter! How do I know that while writing the very first paragraph? C'mon, it's gonna be a Twitter Guide – I'll just use the tips below to make it go viral :) Twitter Basics Part 1: Creating a Twitter Account (The Right Way) Twitter Design - Inspiring Twitter Background & Resources. If you are a freelancer like me, you will probably find social media sites these days are your best friends.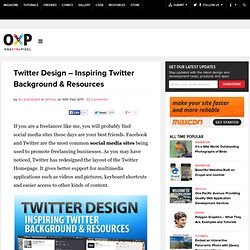 Facebook and Twitter are the most common social media sites being used to promote freelancing businesses. As you may have noticed, Twitter has redesigned the layout of the Twitter Homepage. It gives better support for multimedia applications such as videos and pictures, keyboard shortcuts and easier access to other kinds of content. 60 Creative Illustrated Twitter Backgrounds - Noupe Design Blog. The 5 Really Useful Twitter Apps You Should Know About. By Umar Anjum on November 26, 2010 The 5 Really Useful Twitter Apps You Should Know About Don't Forget to participate in a contest where you can win an amazing e-Commerce template from TemplateMonster.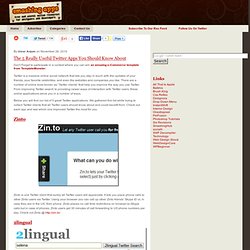 Twitter is a massive online social network that lets you stay in touch with the updates of your friends, your favorite celebrities, and even the websites and companies you like. There are a number of online tools known as "Twitter clients" that help you improve the way you use Twitter. 50+ Amazing Twitter Services That You Do Not Want To Miss. Twitter is both a micro-blogging platform and a social networking service that every webmaster uses today.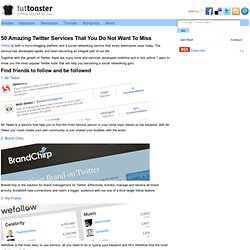 The service has developed rapidly and been becoming an integral part of our life. Together with the growth of Twitter, there are many tools and services developed overtime and in this article, I want to show you the most popular Twitter tools that will help you becoming a social networking guru. Find friends to follow and be followed. Le top 10 des relous sur twitter. L'excellent post de Shannon Whitley m'a donné envie de dresser une liste différente et plus franco-française des dix genres les plus emblématiques de twitteurs relous.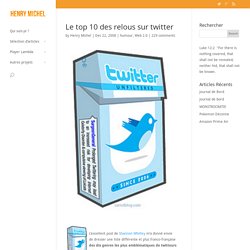 Tout twitteur digne de ce nom, hélas, se retrouvera un petit peu dans chacun de ces dix relous. L'important est de savoir doser. Ces gens-là ne savent pas doser. 1. Twitter Background Design – Great Tips and Gorgeous Examples. We all know that gaining Twitter followers is down to how often you tweet and what you tweet about - or if you're a website owner and use Twitter, a way to communicate with your readers. However, there are additional ways to increase the chances of new stumblers to follow you, one of them being by having an interesting background. This isn't a quick route to Twitter success, but it most certainly does help. By designing your own interesting Twitter background you can express your personality through images. 6 Personalities You Should Follow On Twitter. 12 Talented UK Logo Designers to follow on Twitter.
Médias sociaux > Pourquoi les marques échouent sur Twitter ? Twitter : beaucoup de marques se posent encore la question de l'intérêt d'y être présentes. Il faut dire que lorsque l'on regarde les chiffres du nombre de personnes qui suivent nombre d'entre elles, on est en droit de se poser la même question. Quand on est une marque internationale, être suivi par 300 personnes sur son compte Twitter où on y investit du temps, il y a de quoi devenir sceptique de l'intérêt de Twitter.
Peut-être que déjà le problème est pris à l'envers. Quelques chiffres méconnus sur Twitter - Social Media, Community Management, Social CRM, e-Reputation par Cédric Deniaud. Lorsque l'on donne des chiffres sur Twitter, on s'arrête trop souvent au : nombre de tweets diffusés par jour (50 millions dont la moitié ne sont pas en anglais, contre 2,5 millions en 2009, ce qui témoigne de l'explosion de la twittosphère : plus de 10 milliards de tweets depuis le lancement);nombre d'inscrits (environ 15 millions selon les derniers chiffres officiels communiqués au niveau monde dont un peu moins de 1% en France soit moins de 150 000 inscrits).
Dans ce cadre, on sait que les marques qui y sont présentes et, ce de plus en plus (voir la liste des marques qui twittent en Français et Best et worst practices des marques sur Twitter en France), le font dans une cadre de communication (il est hype que sa marque soit sur Twitter) et pour adresser une niche de personnes influentes (stratégie d'influence sur Internet). Le nombre d'inscrits vs le nombre d'utilisateurs actifs (et autres données) How to connect your site with twitter using @Anywhere. Twitter has launched @Anywhere, a more simple way of integrating twitter in your site. With it you can add follow buttons, hovercards, linkify twitter usernames and connect with twitter. In this tutorial, I will show you how to use @Anywhere in your site.
50 Web Designers and Developers to Follow on Twitter. If your looking for some web designers and developers to follow on twitter, then your in the right place as this list contains 50 web designers and developers who are worth following. You'll find that each one has a lot to offer and a unique perspective on their craft. Gary Thomas – (9swords) he tweets cool stuff for web designers. Aaron Irizarry – (aaroni268) is a User Experience Designer for Harte-Hanks/PennySaver. Top 10 Websites To Get The Hottest Twitter Topics.
35 Creative Twitter Background Inspired from Typography. DailyRT | the most popular tweets on the web. Twitter. TweetDeck. Klout - Twitter Analytics - Measuring Influence Across The Socia. MyCleenr. Twitpic - Share photos on Twitter. Tweet Spinner: Micro-targeting without Micro-managing. FriendOrFollow.com - Who's not following you back? Who aren't yo. Twitter Search, Twitter Directory, Twitter Yellow Pages :: Twell.
Qwitter: Catching Twitter quitters. 10 Great Tips for Using Twitter as a Designer. Why As a freelancer you should use twitter. 302 conseils, règles et outils pour votre utilisation de Twitter. How to: Do a Proper Follow Friday on Twitter. Twettle, la bouilloire qui twitte ! 40 Tools To Spice Up Your Twitter Background | Tools. 100 Creative Twitter Backgrounds Featuring Illustration | Webdes. 10 aspects ou astuces que vous ne connaissez peut-être pas sur T. 10 utilisations créatives de Twitter. 20 Ways to Get Ignored on Twitter | Girl Goes Tech. 5 Exciting Ways to Use Twitter | Girl Goes Tech. Comment avoir plus de 200 followers sur Twitter en moins de deux.
---