Social Network
Social Media Propaganda Posters [Pics]
All over the Internet, it seems that any blogger, who has nothing to say or is simply uninspired for the moment, will surely post something about the rise and the progress of social media. The subject is debated from news websites to the ones about gardening and the trend is that, if it did not happen yet, that anybody knows something new about social media. Even though it is a very hot subject there are still enough people who are in doubt about social media: is it something transitory or is it as important as the discovery of fire, steam power or the Internet? Nobody knows but all the information says that social media is a powerful and interesting entity.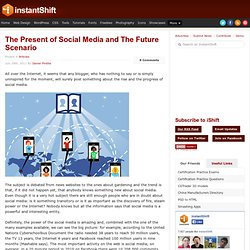 The Present of Social Media and The Future Scenario
Social media campaigns can catch the public's imagination and you only have to watch the Old Spice campaign or Roller Babies online video to realize the genius. There are other social media campaigns that aren't that sexy or funky but never the less they are enormously effective and produce great results. One of these that come to mind is Fords Fiesta Movement social media campaign that created a 38% awareness about a product before launch and 11 million social networking impressions without one dollar being spent on traditional mass media. In the previous article I listed the 10 best social media campaigns as selected by Forbes panel of three experts including
jeffbullas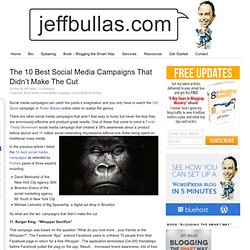 The Top 3 Social Media Sites
There is a huge difference between creating a site and running a site. You can hire a designer and content writer to create your website in a matter of days only. However, to run it and to make it successful, you will need to bring potential buyers to your website. So, how can you attract your market and bring them to your website? Well, today, social media is one of the hottest ways of connecting with your market.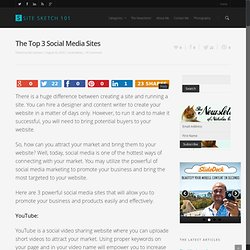 Real-Time Search — BackType
Relationships Matter
Partagez en un clic vos liens préférés sur Facebook, Twitter
Silentale - Sign-in
Blogmarks.net : Public marks
by gregg Imagine yourself in bizarre employment at the Widsith Institute, excavating the possessions of a man long dead. Don the Dutch Frame, meet the mysterious Clerk Wayle, climb the terrifying Shushbaby.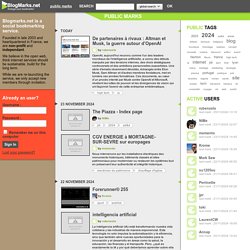 Digg - The Latest News Headlines, Videos and Images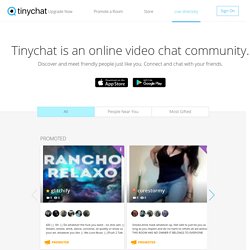 Get The App iPhone or Android? Live Directory Sign In or Sign Up <div class='error' style='padding: 10px;'><div class='title'>Javascript Required</div> It appears as though you do not have <strong>JavaScript</strong> enabled.
Tinychat - Free online video chat rooms
Timetonote - Free, Simple, Fast and Elegant CRM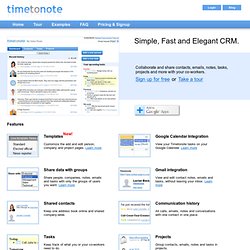 TemplatesNew! Customize the add and edit person, company and project pages. Learn more Google Calendar Integration View your Timetonote tasks on your Google Calendar. Learn more Share data with groups Share people, companies, notes, emails and tasks with only the groups of users you want. Learn more Gmail integration View and edit contact notes, emails and tasks, without leaving your inbox.
MySpace France - Aujourd'hui sur MySpace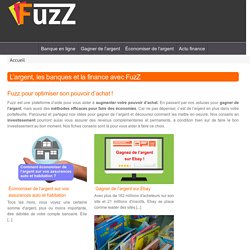 Soutenu par les nouvelles technologies du web, et de plusieurs mois de r&d, Zeffyr lance un nouveau genre de MMORPG, avec un moteur de jeu encore jamais vu. Omtorn est un jeu multi-joueurs en temps réel accessible simplement par un navigateur internet, sans plugin ni téléchargement. Le jeu vous permet donc d'avoir plusieurs centaines de joueurs connectés simultanément sur un même serveur! La technologie des navigateurs web permet de disposer de tous les éléments immédiatement, pas besoin d'installer les mises à jour avant de jouer, elles passeront inaperçues, pas besoin de télécharger ou d'attendre quoi que ce soit avant de pouvoir jouer. 1.
Fuzz : Vous faites la une ! - Vous faites la une !
DoYouBuzz : le CV en ligne nouvelle génération - CV gratuit
FriendFeed
Scoopeo
Ning lets you join and create new social networks for your inter