PHP
PHP: Hypertext Preprocessor
Developers | HipHop for PHP: Move Fast
One of the key values at Facebook is to move fast. For the past six years, we have been able to accomplish a lot thanks to rapid pace of development that PHP offers. As a programming language, PHP is simple.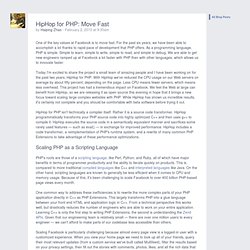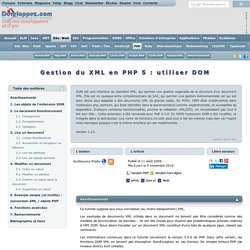 Ce tutoriel suppose que vous connaissez (au moins basiquement) XML. Les exemples de documents XML utilisés dans ce document ne doivent pas être considérés comme des modèles de structuration de données... Ils ont été choisis pour illustrer des problématiques précises relatives à l'API DOM. Nous allons travailler sur un document XML constitué d'une liste de quelques pays, classés par continents. Les informations contenues dans ce tutoriel concernent la version 5.0.0 de PHP.
Nous sommes le 31 Mar 2013, 04:30 Actualités Pour discuter de l'actualité du PHP et technologies associées. Les messages à but commercial sont interdits. 347 Sujets 2997 Messages Dernier message par cyruss 20 Mar 2013, 12:07 FAQ et tutoriels Trouvez ici tous les messages de FAQ et les tutoriels de PHPFrance. 53 Sujets 83 Messages Dernier message par AB 24 Mar 2013, 19:55 PHP débutant Pour ceux qui débutent en PHP. 24618 Sujets 167776 Messages Dernier message par catrin Hier, 22:49 PHP avancé Pour les initiés, les confirmés, les experts, les gourous... voire plus. 4981 Sujets 30267 Messages Dernier message par Aureusms 29 Mar 2013, 17:25 Frameworks PHP Symfony, Zend Framework, Hoa... Si vous avez une question qui concerne spécifiquement un framework PHP, ce forum est fait pour vous!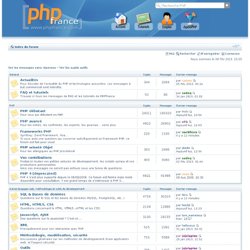 PHPFrance