Movie
40 Fantastic Movie Related Websites. Dec 13 2011 The internet is a popular place for movie fans.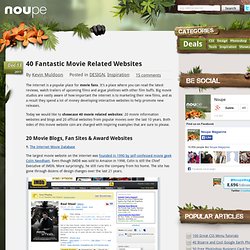 It's a place where you can read the latest reviews, watch trailers of upcoming films and argue plotlines with other film buffs. Big movie studios are vastly aware of how important the internet is to marketing their new films, and as a result they spend a lot of money developing interactive websites to help promote new releases. Today we would like to showcase 40 movie related websites: 20 movie information websites and blogs and 20 official websites from popular movies over the last 10 years.
Both sides of this movie website coin are charged with inspiring examples that are sure to please. Transformers in 1-D. God's Eye View. What Popular Movies Can Teach Us About Design. Sep 07 2011 It's a pretty safe bet to say that the vast majority of people like movies.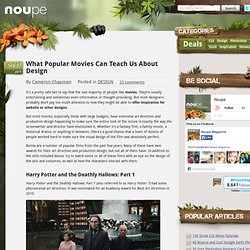 They're usually entertaining and sometimes even informative or thought-provoking. But most designers probably don't pay too much attention to how they might be able to offer inspiration for website or other designs. 12 posters minimalistes de films en typographie. Rédigé par :: Grégory Catégorie :: Inspiration Imaginée et illustrée par Jerod Gibson, voici une série de 12 détournements minimalistes d'affiches de films et de séries célèbres.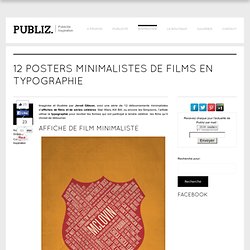 Star Wars, Kill Bill, ou encore les Simpsons, l'artiste utilise la typographie pour recréer les formes qui ont participé à rendre célèbre les films qu'il choisit de détourner. Bordelais, consultant web & social media en agence, je suis aussi passionné de photographie, des arts graphiques en général, et du design. Des passions que je partage quotidiennement sur publiz et designiz. Art Nouveau Movies. Art Nouveau is an international style of art, architecture and applied art—especially the decorative arts—that were most popular during 1890-1905.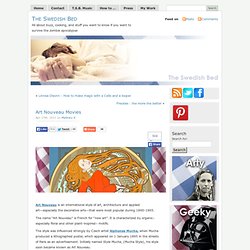 The name "Art Nouveau" is French for "new art". It is characterized by organic– especially floral and other plant-inspired– motifs. Pictogram Movie Posters. Mario" - SXSW 2011 Film Bumper. DUCK HUNT 3D Trailer (2D version) | Game Station Exclusive! Lego Inspired by Movies. Horror Movie Posters: Originals versus Remakes.
By marcos333 Tue, 01/11/2011 - 08:12 Since I was a kid I really love horror movies, there's something about this kind of movie that really catches my attention, maybe the fear component.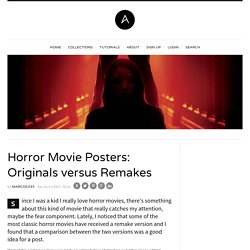 Lately, I noticed that some of the most classic horror movies have received a remake version and I found that a comparison between the two versions was a good idea for a post. Most of this original posters were made on a time before photoshop and other image editing softwares, some were illustrations and manual photomontages. In the other hand, the remakes were done recently, they have a lot of image editing and manipulation. In order to compare both, I posted first the original poster and after the remake poster, you should try to choose your favorite poster for each movie and, of course, don't forget to watch them too.
Mortal Kombat Gritty Reboot. La vidéo à 360° ! Allez, je sors de ma petite période de léthargie niveau blogging pour vous présenter quelque chose de révolutionnaire, enfin à mes yeux : la vidéo à 360° navigable !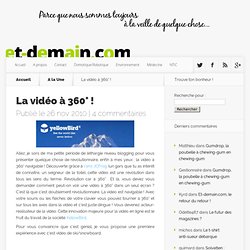 Découverte grâce à l'ami JCFrog (un gars que tu as intérêt de connaître, un seigneur de la toile), cette vidéo est une révolution dans tous les sens du terme. Révolution car à 360° . If Other Directors Made The Social Network - CollegeHumor video. Sintel - Third Open Movie by Blender Foundation. 30 Stunning Black & White Movie Posters. Promotional movie posters are designed to advertise upcoming releases in order to boost box office takings.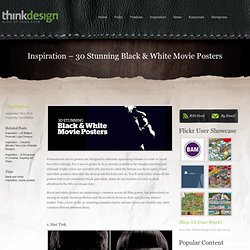 For a movie poster to be a success, it needs to be visually arresting and although bright colors are scientifically proven to catch the human eye more easily, black and white posters often take the most powerful hold over us. You'll notice that while all the posters below are essentially black and white, many do use touches of color to draw attention to the title or release date. Black and white posters are surprisingly common across all film genres, but particularly so among in-depth character studies and those which focus on dark and gloomy subject matter.
Pokémon Apokélypse: Live Action Trailer HD. Geek Art Loves Swoboda's Movies Posters | Geek-Art.net. Movie Posters once again !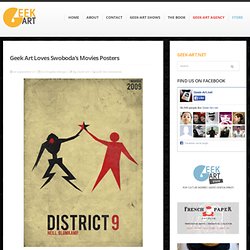 This time those are from Swoboda, a lot more of them by clicking the link below. C ya ! Your Lucky Day. Your Lucky Day. Les affiches minimalistes, prise 2 ! « KissMyGeek, 'cause the Geek is not a lie ! Vous souvenez-vous ?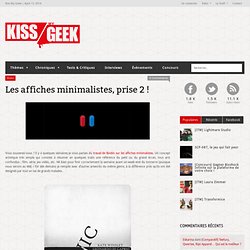 Il y a quelques semaines je vous parlais du travail de Boidin sur les affiches minimalistes. Un concept artistique très simple qui consiste à résumer en quelques traits une référence du petit ou du grand écran, tous arts confondus ; film, série, jeu vidéo, etc. Hé bien pour finir correctement la semaine avant un week-end du tonnerre (puisque nous serons au MdJ / FJV dès demain) je rempile avec d'autres artworks du même genre, à la différence près qu'ils ont été designés par tout un tas de grands malades… Il ne s'agit ici que d'une sélection dont vous pouvez trouver l'intégrale sur un article de Topito. Les Gobelins, films de fin d'étude 2010. L'école des Gobelins , dédiée aux métiers de l'image et réputée pour la qualité de ses films de fin d'étude, nous dévoile sa cuvée 2010...
Cinq films, et autant de mois de production, marqués la volonté de (et ce n'est pas pour nous déplaire). Une concentré d'intelligence, de références culturelles (Miyasaki, Carroll Lewis, Lynch, Burton, Bob, Oggy, les cafards et autres zinzins ne sont jamais très loin), d'humour ; un sens affûté du rythme ; des univers assumés et cohérents ; une démarche artistique sans compromis… Cinq merveilles à découvrir de toute urgence ; suivez le lapin…
Interactive zombie movie adventure - DELIVER ME TO HELL - REAL ZOMBIES ATTACK. Tuto.com - Envoyer un tuto vidéo. 35mm. Movies Posters Minimaliste par Pedro Vidotto | Geekiz Magazine. I'M HERE (Je suis là) - UN COURT METRAGE DE SPIKE JONZE. ARTIFICIAL PARADISE,INC. A Tale of Two Fake Pac-Man Movie Trailers. Currently making the rounds on the Internet: A wonderful fake trailer for Pac-Man: The Movie, whipped up by Therefore Productions. Taking the psychological horror route, it's a mix of Iron Man, Saw, Shutter Island, and Crank 2: High Voltage: A Tony Stark-like pharmaceuticals magnate named "Michael Pacman" is under investigation for the dangerous side effects allegedly caused by his drugs, and he's put in a maze full of hallucinatory ghosts, wherein he must eat his tablets off shelves and drink glowing blue liquid to stay alive — but suffer increasingly retro side effects.
Check it out: It brought to mind Scott Gairdner's very different take on the Pac-Man legend in the form of this mock trailer, from way back in 2006: While it's not quite as slick or as faithful to the original game mechanics (it takes a much more J-cyberpunk tack), it does feature the immortal line "…some kind of man. Some kind of Pac-Man." Also: bonus points for the Ms. Untitled. Lights Out. Les scènes coupées d'Iron Man 2 ! « KissMyGeek, we eat brains to.
---