Brush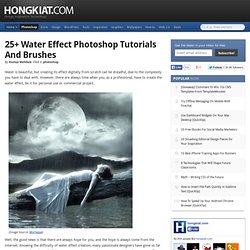 Water is beautiful, but creating its effect digitally from scratch can be dreadful, due to the complexity you have to deal with. However, there are always time when you, as a professional, have to create the water effect, be it for personal use or commercial project. (Image Source: Morteque)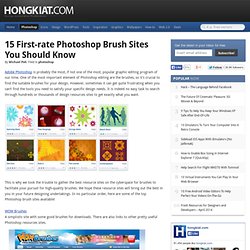 Adobe Photoshop is probably the most, if not one of the most, popular graphic editing program of our time. One of the most important element of Photoshop editing are the brushes, so it's crucial to find the suitable brushes for your design. However, sometimes it can get quite frustrating when you can't find the tools you need to satisfy your specific design needs. It is indeed no easy task to search through hundreds or thousands of design resources sites to get exactly what you want.
15 First-rate Photoshop Brush Sites You Should Know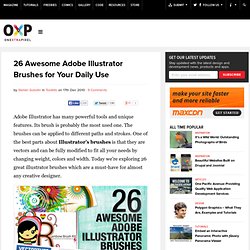 Adobe Illustrator has many powerful tools and unique features. Its brush is probably the most used one. The brushes can be applied to different paths and strokes.
26 Awesome Adobe Illustrator Brushes for Your Daily Use | Onextrapixel - Showcasing Web Treats Without A Hitch
Free Photoshop Brushes | Free Fonts | Patterns - Gfxfever.com
Brushfed.com - free photoshop brushes for photoshop 6, 7, CS, CS
Free Adobe Photoshop Brushes Over 40 unique Photoshop brush sets created using my own original drawings and photos. Most of them were made in Adobe Photoshop 7.0, and they will work in all newer versions. Learn how to create and use brushes with my Photoshop Brushes tutorial.
Free Adobe Photoshop brushes | In obscuro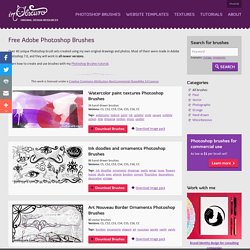 Free Photoshop Brushes
Ultimate Collection of Free Brush Fonts | Naldz Graphics
Every design made has its own concept and styles. As designers, choosing the type of fonts that will suite on a particular design project is a must to achieve the best result. In continuation of gathering cool free fonts on the web, we came up on another list of fonts that you can download right to your desktop,a list of free brush fonts. Not to take this long, here is A Collection of Free Brush Fonts that you can use and apply on your next designs. These are the best brush fonts available on the web so far.