2
The place for Photoshop tutorials, inspirational sites, logo design and graphic design | Design your way. Is a type of photography that illustrates an idea, a concept.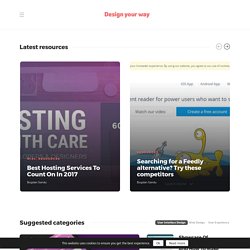 The concept is both preconceived and, if successful, understandable in the completed image. It is most often seen in advertising and illustration where the picture may reiterate a headline or catchphrase that accompanies it. The term conceptual photography used to describe a genre may refer to the use of photography in Conceptual Art or in contemporary art photography.
In either case the term is not widely used or consistently applied. Psdtuts+ | Adobe Photoshop Tutorials from Beginner to Advanced. Business Cards. Popular Links. Graphic Design Blender | Master the Business of Design – Freelancing, Client Advice, Business Tips & more. Inspired Ideas to Art & Design  |  Origin Ideas. Tips for Designers, Bloggers and Tech Users. Boagworld. Web Designer Wall - Design Trends and Tutorials. Home. Web Design Blog – CSS Tutorials, jQuery Tutorials, SEO Tips, Learning Advice, Personal News, and More | Los Angeles Web Designer & Front-end Developer - Soh Tanaka.
Graphic Design Blog, Tutorials, Resources and Inspiration. Abduzeedo | Graphic Design Inspiration and Photoshop Tutorials. Le Stabylo Rouge. Design Instruct: A Web Magazine for Designers and Digital Artists. The Big Picture.
Many indigenous groups, including the Huni Kui, Ashaninka, and Madija, live in villages in the Brazilian rainforest near the border with Peru.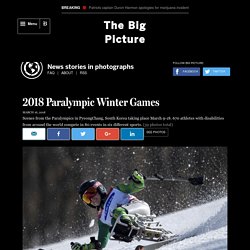 Over the past three years, the Ashaninka and Madija say that they have seen more and more incursions on their territory from uncontacted tribes, defined by Survival International as groups who have no peaceful contact with mainstream society. The "Bravos," or "Braves," as uncontacted Indians are called in the region, carry out raids on other villages, putting the communities along the Envira River on permanent alert. Photoshop Brushes. Blog.SpoonGraphics. PSDFAN - Adobe Photoshop Tutorials, Design Articles and Resources. All Designs,Graphics and Web Resources-Naldz Graphics. Grafpedia - Premium tutorials for beginners to advanced users of Adobe Photoshop.
Web Design Blog - Webdesigner Depot. Iniwoo.net – Graphics can Talk! Web Design Tutorials | Create A Website | Make A Website | Learn Flash. Advertising. The Web Design Blog. Design Spartan : Graphisme, Webdesign, Digital painting, Illustration… Handpicked free fonts for graphic designers with commercial-use licenses.
PelFusion Design Magazine. Graphic Design Links and Tutorials - Your Source for Social News and Networking.
---