Interesting stuff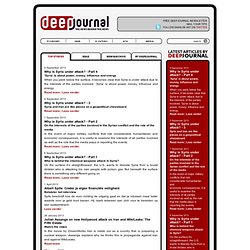 Finucane, Sami al-Saadi and Khaled el-Musri: will we once again just 'move on' from the murky conduct of MI6 and the CIA? This, of course, is a rather dodgy situation for America's Protectors. After all, Bashar al-Assad of Syria is now supposed to be the devil incarnate, the latest Middle East Hitler, the man whom Obama and La Clinton would like to have liquidated.
DeepJournal - the news behind the news
» Major Wars and Suppression of American Freedoms Planned BEFORE 9/11 Alex Jones
Washington's Blog November 10, 2011 Many things which we've been told have only happened recently actually started a long time ago. For example, the mainstream media claims that Iran is close to building a nuclear weapon. But the Christian Science Monitor notes that the U.S. has been claiming for more than 30 years that Iran was on the verge of nuclear capability. And the decision to threaten to bomb Iran was made before 9/11.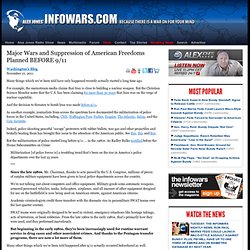 Stand Up Mr US Business Man
Occupy DOE oct25th and ongoing