blogs
Get flash to fully experience Pearltrees
Sunday, October 30, 2011 10:33:52 PM Adolf Hitler Kenneth Burke , PVV , fascisme , Martin Bosma Er zijn zo van die toevallen. Dit is er eentje van.
January 29, 2011 – Oakland, CA – Yesterday, the Oakland Police deployed hundreds of officers in riot gear so as to prevent Occupy Oakland from putting a vacant building to better use. This is a building which has sat vacant for 6 years, and the city has no current plans for it. The Occupy Oakland GA passed a proposal calling for the space to be turned into a social center, convergence center and headquarters of the Occupy Oakland movement. The police actions tonight cost the city of Oakland hundreds of thousands of dollars, and they repeatedly violated their own crowd control guidelines and protester's civil rights. With all the problems in our city, should preventing activists from putting a vacant building to better use be their highest priority? Was it worth the hundreds of thousands of dollars they spent?
6. Make a Collection & Donate Put a flyer up in your building asking other tenants to donate any of the items on the list below. If you live in a private home, consider posting a flyer on the community message board at your local library, coffee shop or grocery.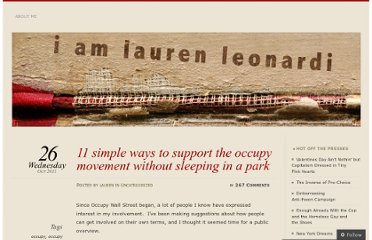 "Still, if you will not fight for the right when you can easily win without bloodshed; if you will not fight when your victory will be sure and not too costly; you may come to the moment when you will have to fight with all the odds against you and only a precarious chance of survival. There may be a worse case. You may have to fight when there is no hope of victory, because it is better to perish than to live as slaves." —Churchill, Winston; The Second World War, Volume I : The Gathering Storm (1948)" Some of us are going to get hurt. This is history catching up with itself.