Anonymous
Interpol.int Is Down. Internet / Home - INTERPOL. Anonymous takes down CIA.gov. February 10, 2012, 4:01 PM — Hacktivist collective Anonymous has struck again at the U.S. government, claiming to have taken down cia.gov, the main web site for the Central Intelligence Agency.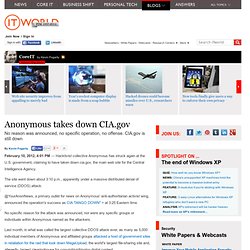 The site went down about 3:10 p.m., apparently under a massive distributed denial of service (DDOS) attack. @YourAnonNews, a primary outlet for news on Anonymous' anti-authoritarian activist wing, announced the operation's success as CIA TANGO DOWN" > at 3:25 Eastern time. No specific reason for the attack was announced, nor were any specific groups or individuals within Anonymous named as the attackers. Last month, in what was called the largest collective DDOS attack ever, as many as 5,000 individual members of Anonymous and affiliated groups attacked a host of government sites in retaliation for the raid that took down MegaUpload, the world's largest file-sharing site and, allegedly, largest clearinghouse for copyright-infringing digital content. Anonymous to the worlds leaders.  Rodney Kirkland, Sr. Oakland Police Department Badge #119. STOP CENSORSHIP BY GETTING INVOLVED Petitions -  Turning the internet back on in Egypt | We Are Legion: The Story of the Hacktivists.
Turning the internet back on in Egypt On December 17th, 2010, Tunisian street vendor Mohamed Bouaziz set himself on fire to protest the near daily harassment he was suffering at the hands of corrupt Tunisian police.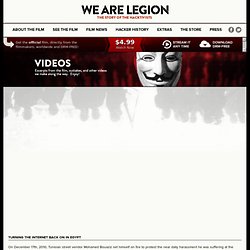 His death sparked a maelstrom of civil resistance and public protest that eventually forced then President Zine Ben Ali to step down after 23 years in power. Bouaziz's desperate act ignited the Arab Spring. It remains one of the most transformative movements of our time and a year ago this month it was on the verge of exploding even further in Egypt. _lx3czrUVhS1qjt9p1o1_500. Boston D.A. Subpoenas Twitter Over Occupy Boston, Anonymous | Threat Level. @p0isan0n's Twitter icon, the Antisec oenophile On December 14, Twitter received a bizarre subpoena from the District Attorney of Suffolk County, which includes Boston.
It requested "All available subscriber information, for the account or accounts associated with the following information, including IP address logs for account creation and for the period December 8, 2011 to December 13, 2011." Access Restricted. Well yet again its a huge leak today, yeah that's right 860,000 accounts from STRATFOR of pretty much every client that has every registered with them.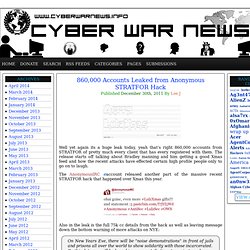 The release starts off talking about Bradley manning and him getting a good Xmas feed and how the recent attacks have effected certain high profile people only to go on to laugh. The AnonymousIRC account released another part of the massive recent STRATFOR hack that happened over Xmas this year. Also in the leak is the full 75k cc details from the hack as well as leaving message down the bottom warning of more attacks on NYE: On New Years Eve, there will be "noise demonstrations" in front of jails and prisons all over the world to show solidarity with those incarcerated.
Just a small preview of the mayhem to come. 1 out of 2.7 million Date: Thu. Confidential Client List Safe from Anonymous, Says Hacker Target. The damage from a weekend data breach at a think tank on international security issues appears to have been inflated by the assault's perpetrators, the hacker collective known as Anonymous.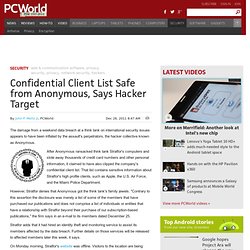 After Anonymous ransacked think tank Stratfor's computers and stole away thousands of credit card numbers and other personal information, it claimed to have also clipped the company's confidential client list. That list contains sensitive information about Stratfor's high profile clients, such as Apple, the U.S. Air Force, and the Miami Police Department. United Nations Hacked by TriCk - TeaMp0isoN. TeaMp0isoN hacked United Nations Development Programme Website (www.undp.org) and leaked users data including username,passwords, the leak posted in pastebin .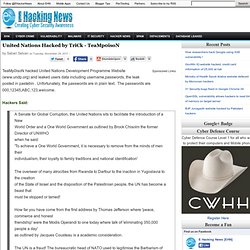 Unfortunately, the passwords are in plain text. The passwords are 000,12345,ABC,123,welcome. Hackers Said: A Senate for Global Corruption, the United Nations sits to facilitate the introduction of a New World Order and a One World Government as outlined by Brock Chisolm the former Director of UNWHO when he said: 'To achieve a One World Government, it is necessary to remove from the minds of men their individualism, their loyalty to family traditions and national identification'The overseer of many atrocities from Rwanda to Darfour to the inaction in Yugoslavia to the creation of the State of Israel and the disposition of the Palestinian people, the UN has become a beast that must be stopped or tamed! Operatie Facebook. Coming Shortly: a word regarding the Occupy movement and Facebook.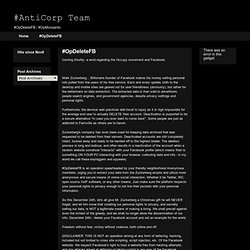 Mark Zuckerberg... Billionaire founder of Facebook makes his money selling personal info pulled from the users of his free service. Each and every update, both to the desktop and mobile sites are geared not for user friendliness (obviously), but rather for the betterment on data extraction. The extracted data is than sold to advertisers, people search engines, and government agencies, despite privacy settings and personal rights.
Furthermore, the devious web practices add insult to injury as it is nigh impossible for the average end user to actually DELETE their account. We Started #Oct17 We Pushed #Nov5 Now We Reinforce the Fight. Push came to shove, and we shoved hard.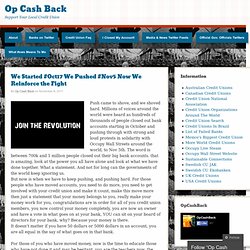 Millions of voices around the world were heard as hundreds of thousands of people closed out bank accounts starting in October and pushing through with strong and loud protests in solidarity with Occupy Wall Streets around the world, to Nov 5th. The word is between 700k and 1 million people closed out their big bank accounts. that is amazing, look at the power you all have alone and look at what we have done together. What a statement.
---