Adbusters
The Future of #OCCUPY. The initial phase of the #OCCUPY movement was marked by several weeks of viral growth that peaked on October 15 with a global day of action.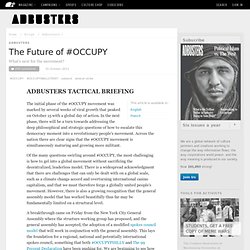 In the next phase, there will be a turn towards addressing the deep philosophical and strategic questions of how to escalate this democracy moment into a revolutionary people's movement. Across the nation there are clear signs that the #OCCUPY movement is simultaneously maturing and growing more militant. Of the many questions swirling around #OCCUPY, the most challenging is how to gel into a global movement without sacrificing the decentralized, leaderless model. Hey G20, Here Comes #ROBINHOOD. Alright you rebels, redeemers and believers out there, At the height of the global uprisings in 1968, protesters confidently heralded "The Beginning of a New Epoch.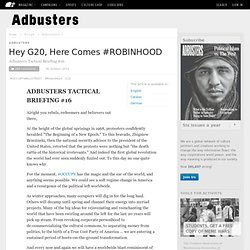 " To this bravado, Zbigniew Brzezinski, then the national security advisor to the president of the United States, retorted that the protests were nothing but "the death rattle of the historical irrelevants. " And indeed the first global revolution the world had ever seen suddenly fizzled out. Adbusters vs. NewYorkTimes | Hey you jammers, dreamers and truth-tellers out there, In the wake of #OCCUPYWALLSTREET, the corporate media have tried repeatedly to discredit the movement.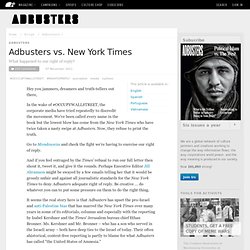 We've been called every name in the book but the lowest blow has come from the New York Times who have twice taken a nasty swipe at Adbusters. Now, they refuse to print the truth. Go to Mondoweiss and check the fight we're having to exercise our right of reply. And if you feel outraged by the Times' refusal to run our full letter then shout it, tweet it, and give it the rounds. Adbusters: MicahWhite Revolution in America. Adbusters. The Adbusters Media Foundation is a Canadian-based not-for-profit, anti-consumerist, pro-environment[1] organization founded in 1989 by Kalle Lasn and Bill Schmalz in Vancouver, British Columbia.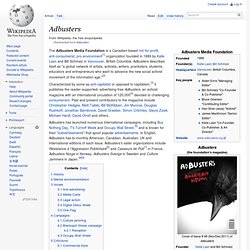 Adbusters describes itself as "a global network of artists, activists, writers, pranksters, students, educators and entrepreneurs who want to advance the new social activist movement of the information age. "[2] Characterized by some as anti-capitalist or opposed to capitalism,[3] it publishes the reader-supported, advertising-free Adbusters, an activist magazine with an international circulation of 120,000[4] devoted to challenging consumerism.
---