Adbusters
The Future of #OCCUPY
The initial phase of the #OCCUPY movement was marked by several weeks of viral growth that peaked on October 15 with a global day of action.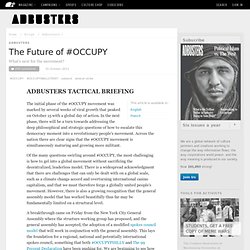 Alright you rebels, redeemers and believers out there,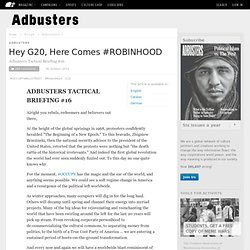 Hey G20, Here Comes #ROBINHOOD
Adbusters vs. NewYorkTimes |
Hey you jammers, dreamers and truth-tellers out there, In the wake of #OCCUPYWALLSTREET, the corporate media have tried repeatedly to discredit the movement.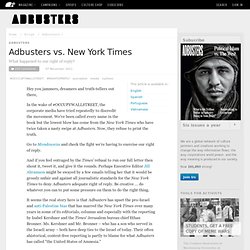 Adbusters: MicahWhite Revolution in America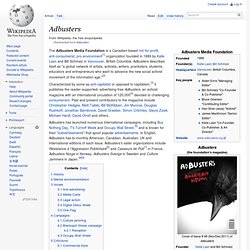 Adbusters
The Adbusters Media Foundation is a Canadian-based not-for-profit, anti-consumerist, pro-environment[1] organization founded in 1989 by Kalle Lasn and Bill Schmalz in Vancouver, British Columbia. Adbusters describes itself as "a global network of artists, activists, writers, pranksters, students, educators and entrepreneurs who want to advance the new social activist movement of the information age."[2] Characterized by some as anti-capitalist or opposed to capitalism,[3] it publishes the reader-supported, advertising-free Adbusters, an activist magazine with an international circulation of 120,000[4] devoted to challenging consumerism.