Classic
supacustom.com
wrenchmonkees.com
Wrenchmonkees
4h10
4h10.com - Bikes, Lifestyle & More.
Benjie's Cafe Racers
Manxman C II | PHOTO GALLERY
unnamed pearl
lesdennbike
It's Better In The Wind
Home - Cafe Racer Dreams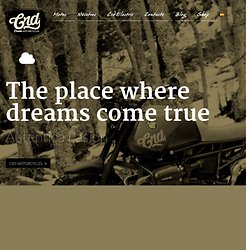 CRD#42 ¨Desert¨ Después de unos meses de duro trabajo ya tenemos entre nosotros a esta GS. Dispuesta a darlo todo en cualquier terrenoy deseando pisar desierto. Espero que os guste!! Read full article » CRD#42 ¨Desert¨, the film ;O)
www.clubman.de
.:: South Garage Cafè ::.
SOUTH GARAGE CAFE CAGGIANO -SA-
RocketGarage Cafe Racer
Matteo Pasetto non è nuovo a questa pagine infatti lo scorso hanno si era cimentato con un cafe racer su base Triumph Trident , sembra che ci abbia preso gusto a questo hobby e questa volta ci ha riprovato con una Scrambler . A fine estate ha preso una Honda Dominator del 1993 con l'idea di impegnare l'inverno trasformandola in Scrambler. Ne ha creato un mezzo scarno e semplice che sembra adattarsi a vari utilizzi sia per correre per strade bianche o per par fare un giro in centro , quindi un mezzo polivalente ma con stile . Queste le modifiche in 6 mesi di lavoro. rifatto telaio posteriore con vano batteria nascosto serbatoio carburante di Cagiva 125 sella su misura anodizzato cerchi + zincati raggi gomme tassellate Continentat TCK 80 faro anteriore di un vecchio Guzzi faro posteriore rotondo a catalogo freccie piccole collettore 2 in 1 con terminale Mass titanio e carbonio manubrio cross con traversino tutto sabbiato e verniciato nero lucido tagliando completo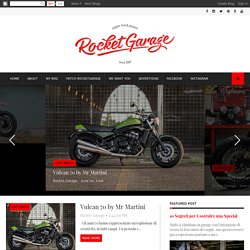 Looking for a new look to go with that motorcycle you just bought? Fortunately silver jewellery comes in a wide variety of rocker styles so you can look arena-ready at all times! You can definitely get away with going over the top with rocker-inspired jewelry while not losing any of your celebrity glam. Need some ideas to help you get started? Just bookmark these quick tips to master your new rocker style with wild silver jewellery!
8negro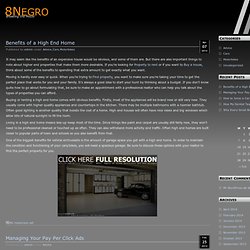 Blitz Motorcycles - Home
tc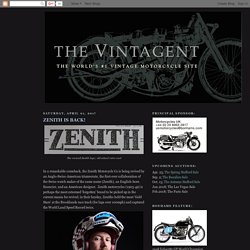 The Vintagent
There are several de facto motorcycle conventions around the world, but none quite like the annual Las Vegas motorcycle auction week in early January. There isn't a swap meet or evening entertainment, not a banquet or panel discussion or even art show, although elements of all these can be found at Vegas. The focus is the auctions, even though hundreds of people arrive with no intention of bidding on anything, content to meet friends from distant places. Some buy bikes they weren't expecting, some take home bikes they expected to sell...such is the unpredictable mystery of the auction process. What can we glean from this year's auctions? The #1 trend I spotted this year was a solidification of prices for up-and-coming bikes, some of which have now truly entered the big time...and I'm talking about Harley Knuckleheads.
Our friend Matt Darwon "Matt Machine" from Australia has been for long now in the classic and custom bike scene. He's a skilled builder and the long hours spent in his garage wrenching motors have developped an ability for spotting details . It is maybe a reason why the idea came to start a new kind of magazine focusing on one bike per issue. The Issue one will talk about the iconic 900SS Ducati. Texts by Paul D'Orleans
southsiders
Herr Funk's Yamaha TW125 Some motorcycles just scream fun. Before the Honda Grom there was the Yamaha TW125: A low-riding dual-sport bike that can't decide if it belongs on the beach or the farm. With low gearing and big tires, it's also at home on potholed city streets—as Maximilian Funk has found. The TW has been around since the mid 80s, and in 1987 a TW200 became the first motorcycle to reach the North Pole.
Classic motorcycles, custom motorcycles and cafe racers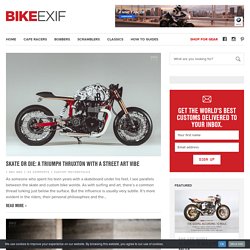 Falcon Motorcycles : Custom Vintage British Motorcycles : Los Angeles - Triumph, Norton, BSA, Vincent
Pipeburn - Purveyors of Classic Motorcycles, Cafe Racers & Custom motorbikes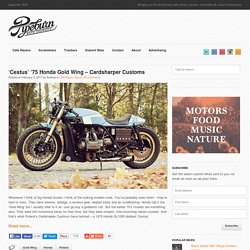 If Santa Claus was to ever ditch the reindeers and sleigh, we could definitely see the old guy riding this stunning little red CB350. Aptly named 'The Red Rocker', this bike was built by The Pacific Motorcycle Co. who are based in the city of Nelson on New Zealand's picturesque South Island. The "Red Rocker" was an idea owner Ron Smith had for some time, as an old battered 1974 Honda CB350 twin had been sitting in the shop for a few months after being given it by one of their customers.
VD CLASSIC : Accessoires moto ::: Motorcycle accessories
Deus Customs
Patrick Godet Motorcycles
Mac Motorcycles