Good Movies
Sherlock Holmes: A Game of Shadows (2011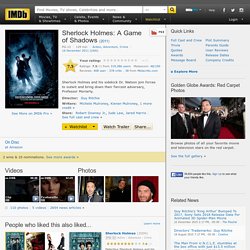 Edit Storyline Plot Summary | Plot Synopsis
Edit Storyline In the fourth installment of the Mission Impossible series, Ethan Hunt and a new team race against time to track down Hendricks, a dangerous terrorist who has gained access to Russian nuclear launch codes and is planning a strike on the United States. An attempt by the team to stop him at the Kremlin ends in a disaster, with an explosion causing severe damage to the Kremlin and the IMF being implicated in the bombing, forcing the President to invoke Ghost Protocol, under which the IMF is disavowed, and will be offered no help or backup in any form. Undaunted, Ethan and his team chase Hendricks to Dubai, and from there to Mumbai, but several spectacular action sequences later, they might still be too late to stop a disaster. Written by shreesha bhat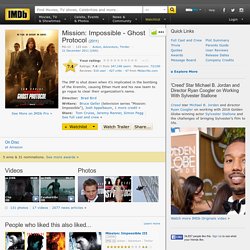 Edit Storyline Plot Summary | Plot Synopsis Taglines: Be first.
Margin Call (2011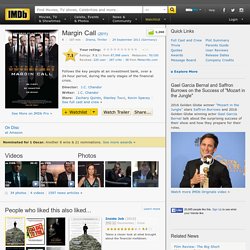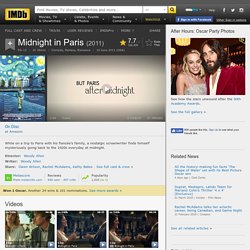 Trivia When Woody Allen had enough budget to shoot the movie in 2006, he contacted his preferred cast but many were working on different projects and couldn't commit. When Owen Wilson's name came up for the leading role, Allen rewrote the character to fit. See more »
Midnight in Paris (2011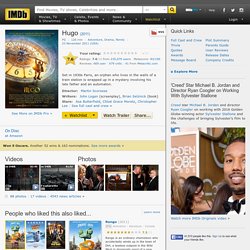 Edit Storyline Hugo is an orphan boy living in the walls of a train station in 1930s Paris. He learned to fix clocks and other gadgets from his father and uncle which he puts to use keeping the train station clocks running. The only thing that he has left that connects him to his dead father is an automaton (mechanical man) that doesn't work without a special key. Hugo needs to find the key to unlock the secret he believes it contains.

Underworld: Awakening (2012
Quotes [first lines] Selene: The Vampire and Lycans clan have been at war for centuries before I was born, their endless conflict hidden from the human world. I was turned by a Vampire.