Transmedia
MIPCube 2012 Programme at-a-glance. Play Thomas Dolby's new game, "The Floating City" The Floating City is a rich multiplayer transmedia game within a living world based around Thomas Dolby's latest musical endeavors.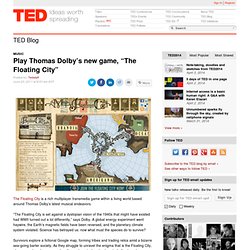 "The Floating City is set against a dystopian vision of the 1940s that might have existed had WWII turned out a lot differently," says Dolby. A global energy experiment went haywire, the Earth's magnetic fields have been reversed, and the planetary climate system violated. Science has betrayed us: now what must the species do to survive? Digitalismo.com. El próximo miércoles 25 Cristóbal Cobo, Carlos Scolari y yo presentaremos el trabajo "Death of the university?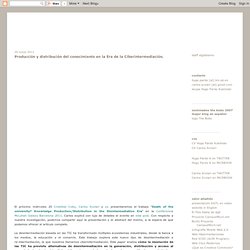 Knowledge Production/Distribution in the Disintermediation Era" en la Conferencia McLuhan Galaxy Barcelona 2011. Carlos explicó con lujo de detalles el evento en este post. Con respecto a nuestra investigación, podemos compartir aquí la presentación y el abstract del mismo, a la espera de que podamos ofrecer el artículo completo. La desintermediación basada en las TIC ha transformado múltiples ecosistemas industriales, desde la banca a los medios, la educación y el comercio.
Este trabajo explora este nuevo tipo de desintermediación o re-intermediación, la que nosotros llamamos ciberintermediación. ADIJ TRANSMÉDIA » Archive » L'atelier vous invite à sa 4ème session, lundi 23 mai 2011, 18h-21h. Storytell your music » OWNImusic, Réflexion, initiative, pratiques. Le transmedia optimise le storytelling d'un artiste.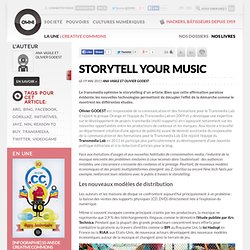 Bien que cette affirmation paraisse évidente, les nouvelles technologies permettent de décupler l'effet de la démarche comme le montrent les différentes études. Olivier GODEST est responsable de la communication et des formations pour le Transmedia Lab. Il rejoint le groupe Orange et l'équipe du Transmedia Lab en 2009 et y développe une expertise sur le développement de projets transmedia (multi-supports) en s'appuyant notamment sur les nouvelles opportunités entre les producteurs de contenus et les marques.
Ana Vasile a travaillé au département création d'une agence de publicité avant de devenir assistante du responsable de la communication et des formations pour le Transmedia Lab. Elle rejoint l'équipe du Transmedia Lab en 2011 et participe plus particulièrement au développement d'une nouvelle politique éditoriale et à la rédaction d'articles pour le blog. Transmedia for Social Documentaries. Transmedia as a buzzword has taken on a life of its own beyond the film world, translating to mobile campaigns, television shows, advertising, and even books.
Whether called , , or just , filmmakers from all genres no longer just make films. Aspiring filmmakers in the social documentary sphere are facing the prospect of a media campaign of overwhelming proportions. But innovative and passionate socially-minded individuals are taking chances and creating blueprints for future filmmakers. Social documentary projects are increasingly more than social and more than documentary. Study cases : a transmedia overview on the music industry | Transmedia Lab.
Faced with the evolution of uses and new media consumption habits, the music industry has to face similar problems to those seen in the audiovisual industry: unstable audiences, growing competition and pirating.
However, new economic models and multiplatform projects are emerging: Jay Z, Gorillaz or Nine Inch Nails for example, are reinforcing their relationships with their audiences through storytelling. 1New distribution models The authors of record labels are faced with one main problem these days: the decreasing sales of material media (CD, DVD), which is directly linked to the digital explosion.
---