Idées et Logiciels Libres
Verbiste | freshmeat.net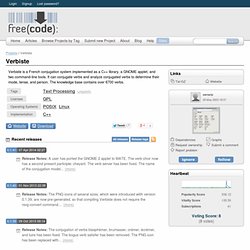 Release Notes: A memory leak has been fixed and the manual pages are now encoded in UTF-8. Release Notes: The GNOME applet is no longer included in the RPM provided here. The French verbs compoter, concaténer, occire, and procrastiner have been added. A new conjugation model ... has been created for the verb harceler, which can be conjugated like appeler as well as like peler. The user can now add verbs to Verbiste by creating an XML file in the home directory.
Opina | freshmeat.net
Largage en Vrac Framasoft
MOVIM - Open Project
OpenGL vs. DirectX (fr)
Souvent, lorsque nous rencontrons d'autres développeurs de jeux et disons que nous utilisons OpenGL pour notre jeu Overgrowth , nous sommes vus avec des regards d'incrédulité : pourquoi devrions-nous utiliser OpenGL ? DirectX c'est l'avenir. Lorsque nous disons aux représentants de cartes graphiques que nous utilisons OpenGL, la température de la pièce descend de dix degrés.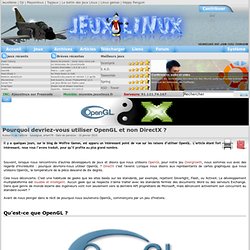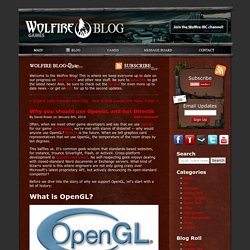 Often, when we meet other game developers and say that we use OpenGL for our game Overgrowth , we're met with stares of disbelief -- why would anyone use OpenGL? DirectX is the future. When we tell graphics card representatives that we use OpenGL, the temperature of the room drops by ten degrees. This baffles us. It's common geek wisdom that standards-based websites, for instance, trounce Silverlight, Flash, or ActiveX. Cross-platform development is laudable and smart .
OpenGL vs. DirectX (en)